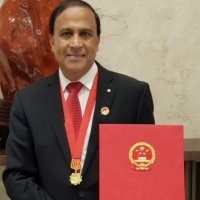 Tuesday, 1 October 2019
Director of The University of Western Australia's Institute of Agriculture, Hackett Professor Kadambot Siddique, has been awarded a prestigious Friendship Award at a ceremony in Beijing today.
In 2016, the United Nations Food and Agricultural Organisation appointed Professor Siddique the Special Ambassador for the International Year of Pulses. He received the 2014 Western Australian of the Year Award, Member of the Order of Australia (AM), and is a Foreign Fellow of the Indian National Academy of Agricultural Sciences (FNAAS); Fellow of the Australian Agricultural Institute (FAAI); Fellow of the Australian Academy of Technological Sciences and Engineering (FTSE); Fellow of the African Academy of Sciences (FAAS); and Urrbrae Memorial Award. He is also a recipient of the prestigious Dunhuang Award from China.
The Friendship Award is the highest award established by the Chinese Central Government to recognise foreign experts who have made outstanding contributions to China's modernisation and reform.
The award was formally established in 1991 by the State Administration of Foreign Experts Affairs authorized by the State Council, and is conferred to 50 winners on the National Day of the People's Republic of China each year. This year marks the 70th National Day of the People's Republic of China.
The Friendship Award was conferred on Professor Siddique at an award ceremony in Beijing today in recognition of his outstanding contributions to agricultural science and education in China over the past 15 years.
Professor Siddique said he was humbled and honoured to receive the prestigious award.
"It has been a great pleasure working with numerous colleagues and postgraduate students from China over the years," Professor Siddique said.
Professor Siddique provided leadership in initiating and maintaining collaborations between UWA and several academic and research institutions in China, including Lanzhou University, Gansu Agricultural University, China Agricultural University, Northwest Agriculture and Forestry University, Zhejiang University, Huazhong Agricultural University, Guangzhou University, Nanjing Agricultural University, Chinese Academy of Agricultural Science and Chinese Academy of Science.
UWA Vice-Chancellor, Professor Dawn Freshwater, said that Professor Siddique had made contributions to agricultural science especially in dryland agricultural systems, that were of the highest international significance. "This award is further recognition of his tireless efforts in providing research-based solutions to global issues in agriculture," Professor Freshwater said.
"UWA prides itself on delivering outstanding scientific research to solve complex problems and this achievement enhances the University's reputation for advancing global science and technology.
"Professor Siddique is a wonderful ambassador for our University and our State. We value him immensely," Professor Freshwater said.
Media references
Jess Reid (UWA Media and PR Adviser) 08 6488 6876
Laura Skates (Communications Officer, The UWA Institute of Agriculture) 08 6488 3756
Tags
Channels

Awards and Prizes — International — Media Statements — University News

Groups

UWA Institute of Agriculture