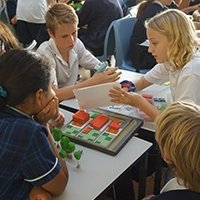 Tuesday, 1 October 2019
Exploring the concept of liveability and sustainable growth of cities was on the agenda for students at Shenton College recently as they took part in a hands-on workshop delivered by experts from the University of Western Australia.
Professor Anas Ghadouani from UWA's Faculty of Engineering and Mathematical Sciences, together with other top UWA experts, led the interactive activity that examined society's pressing issues including liveability, walkability, climate change, water scarcity, energy prices, and population growth.
Professor Ghadouani said the workshop was developed as an alternative to traditional presentations and instead involved practical activities allowing students to explore and relate more directly to the concept of sustainable city growth.

"We engaged the students directly with the learning content by using physical interactive models that allowed them to design a liveable suburb based on their own aspirations and newly-discovered understanding of planning cities," Professor Ghadouani said.

Experts from UWA and the Australian Urban Design Research Centre, including professors, architects, engineers and researchers, worked closely with students to prompt critical thinking and support the generation of ideas on how to best develop cities that remain sustainable into the future.

Rebecca Fraser, Academic Programs Coordinator at Shenton College, said the students thoroughly enjoyed exploring the concept of liveability in a practical way with the innovative model delivered by Professor Ghadouani .

"It was great to have the experts from UWA visit Shenton College to deliver such an amazing, interdisciplinary, hands-on experience for our students. It's not every day you get to 'play' with professors, architects, engineers and researchers in the classroom," Ms Fraser said.

The visit showcased how partnerships between the University, interdisciplinary learning coordinators and science, technology, engineering and mathematics (STEM) teachers helped to promote holistic learning with higher levels of engagement when compared to traditional learning strategies.

"I am confident that we are one of the best universities in Australia to offer this kind of multidisciplinary activity, drawing on a wealth of highly specialised research, and experience in delivering these broader outcomes," Professor Ghadouani said.
Media references
Nicholas Smith (UWA Media Officer) 08 6488 1888
Tags
Channels

Media Statements — University News