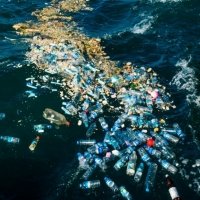 Thursday, 26 September 2019
Business leader, philanthropist and UWA PhD candidate Andrew Forrest has called for a voluntary contribution on fossil fuel-derived plastic, in a bid to stop up to eight million tons of plastic being dumped in the world's oceans each year.
In a research paper published in Frontiers in Marine Science Mr Forrest reviews the global costs of plastic pollution and explains why solving the issue is vital for humanity.
He said marine plastic pollution was a symptom of a wasteful plastic economy that costs the world more than $3.2 trillion each year.
"Of the 6.3 billion tonnes of fossil fuel-derived plastic waste produced to date, only nine per cent has been recycled with the rest being incinerated (12 per cent) or dumped into the environment (79 per cent)," Mr Forrest said.
"This waste takes centuries to degrade which means five billion tonnes of increasingly fragmented and dangerous plastics have built up in the oceans, soil and air.
"Rates of plastic production and waste are growing rapidly, driven by increased demand and shifting strategies of oil and gas companies responding to slowing profit growth.
"Without effective recycling, the harm caused by this waste will keep increasing, jeopardising first marine life and ultimately humans."
Mr Forrest said fossil fuel-derived plastic waste pollution had gone far beyond a marine environmental issue.
"It now invades our bodies causing disease and dysfunction while millions of adults and children work in conditions akin to slavery, picking through our waste," he said.
"We argue that an integrated economic and technical solution through a voluntary industry-led levy on fossil fuel-derived plastic waste is central to stop the flow of plastic waste by turning used plastic into a cashable commodity."
Mr Forrest recently submitted his PhD, Pelagic Ecology and Solutions for a Troubled Ocean, which puts the spotlight on the world's marine environment.
Media references
David Stacey (UWA Media Manager) 08 6488 6876 / 0432 637 716
Tags
Channels

Media Statements — Research — Science — University News

Groups

Oceans Institute — School of Biological Sciences — Science Matters