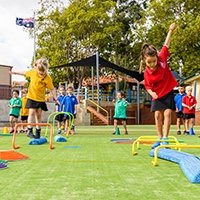 Thursday, 26 September 2019
Workshops to help schools, childcare centres and educators increase physical activity in children are being rolled out across regional towns in Western Australia during October and November, and education providers and encouraged to register their interest.
The initiative, run by The University of Western Australia, is an expansion of the KIDDO program, the largest program of its kind in Perth.
KIDDO aims to increase essential skills such as running, jumping, throwing and catching in children aged between three and eight years old, based on research that indicates children are falling short of developing these basic skills, compared to children 20 years ago.

Aside from child care centres and educators, the general public can also benefit from the large range of childhood activity resources available through the KIDDO program at www.kiddo.edu.au .Schools and Childcare centres interested in arranging workshops can contact KIDDO through the contact page on the website.

UWA KIDDO Program Director Amanda Derbyshire, from UWA's School of Human Sciences, said if children did not develop basic movement skills by the time they were 10 there was a strong chance they would be less active throughout childhood and as an adult, have less social confidence, and have higher health risks.

"We have seen fantastic results in more than 4000 children who have been involved in the KIDDO program in Perth and we are delighted to bring the workshops to regional Western Australia," Ms Derbyshire said.

"Through the Perth program we saw a 61 per cent improvement in over-arm throwing, and a 13 per cent improvement in general movement skills as well as improved confidence through the eight week program."

UWA KIDDO, with support from Sport Australia, Department of Local Government Sport and Culture and Fair Game will be travelling across WA to offer the free workshops across eight regional locations.
Media references
Amanda Derbyshire (UWA KIDDO Program Director) 08 6488 1378
Jess Reid (UWA Media and Public Relations Adviser) 08 6488 6876
Tags
Channels

Media Statements — University News