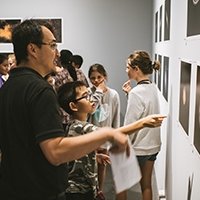 Friday, 20 September 2019
A new exhibition at the Lawrence Wilson Art Gallery will explore the concept of the night sky from cultural, scientific and artistic perspectives.
Astronomy and Art: Partnership Project features a range of student-created art work developed as a result of a collaboration between research teams and school students and will run from Wednesday 18 September to Saturday 28 September.

Dr Janice Lally, Curator of Public and Academic Programs at the Lawrence Wilson Art Gallery said the project engaged with teachers and students from two Perth metropolitan primary schools, Rosalie Primary School in Shenton Park and Osborne Primary school in Osborne Park, while also including Halls Creek District High School, from WA's Kimberley region.

"The project has allowed us to connect classroom teachers and students from various primary schools, to academic staff and professional resources at UWA's Lawrence Wilson Art Gallery, School of Mathematics, Graduate School of Education and the International Centre for Radio Astronomy Research," Dr Lally said.

Noongar Elder Dr Noel Nannup engaged closely with the students, examining Indigenous storytelling behind the concepts students explored, and providing Aboriginal interpretations of the night sky to help students develop their art work.

Rosalie Primary School Principal Ros Kay said the project encouraged their students to value and respect the cultural diversity of their local community.

"The partnership between Osborne Primary School and Halls Creek District High School fosters a learning environment that motivates our students to be inquisitive and contribute positively to their education experiences," Ms Kay said.

"The project linked the popular science, technology, engineering and mathematics, also known as 'STEM' learning methodology with art and culture, fostering cross curricular learning and social development outcomes that created important connections across schools, students and communities," Dr Lally said.

Astronomy and Art: Partnership Project will be accompanied by a series of public programs, including a free public talk by Dr Nannup. For more information visit the LWAG website .
Media references
Megan Hyde (UWA Cultural Precinct) 08 6488 7477
Nicholas Smith (UWA Media Officer) 08 6488 1888
Tags
Channels

Arts and Culture — Media Statements — University News

Groups

Arts — Cultural Precinct — Migrate