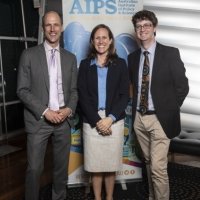 Friday, 20 September 2019
Three researchers from The University of Western Australia and its affiliate Telethon Kids Institute have been recognised in this year's WA Young Tall Poppy Science Awards.

Dr Chris Brennan-Jones, Dr Willem (Joost) Lesterhuis and Associate Professor Asha Bowen were among nine outstanding young Western Australian scientists acknowledged in the annual awards.

Dr Brennan-Jones is a clinical senior lecturer and research supervisor at UWA's Medical School, senior research fellow at Telethon Kids Institute and ear health team leader and senior audiologist at Perth Children's Hospital.

In 2016 he was named Exxon Mobil Student Scientist of the Year for his PhD research focused on improving efficiency and access to ear and hearing healthcare services in Western Australia. He knows the devastating consequences for children suffering long-term hearing loss due to otitis media – also known as middle ear infections or glue ear.

Glue ear affects approximately half of all Aboriginal children and many wait more than two years to see a specialist, allowing infections to worsen and hearing loss to increase, so Dr Brennan-Jones is passionate about reducing wait times for urgent treatment.

His team is leading the Urban Aboriginal Ear Health program, where community-based Aboriginal Health Workers assess children for glue ear from just a few weeks of age and link them to ear, nose and throat services at the hospital via telehealth services – aiming to reduce wait times down to just four weeks.

"When kids can't hear their learning suffers – leading to issues surrounding education, behaviour, social relationships, employment and other future endeavours. That's why early treatment is so vital, and through our research projects we can help provide all children with access to the right care at the right time," Dr Brennan-Jones said.

Dr Lesterhuis, from UWA's School of Biomedical Sciences and head of the sarcoma group at the Telethon Kids Institute, is leading a major research collaboration that has identified key differences between cancers that respond to immunotherapy and those that do not.

His research team has identified drugs that could prepare a cancer patient's immune system before therapy to strengthen their response to treatment and is looking at developing new localised immunotherapy treatments for kids with sarcoma.

"Unlike some other cancers, sarcoma is quite resistant to immunotherapy. We are now investigating how to change this and to make sarcoma sensitive to immunotherapy," Dr Lesterhuis said.

Associate Professor Bowen is head of skin health at the Wesfarmers Centre of Vaccines and Infectious Diseases and infectious diseases paediatrician at Perth Children's Hospital. Dedicated to ending skin disease for Aboriginal children throughout Australia, she discovered that Aboriginal children in remote areas had the highest reported burden of skin infections in the world.

"As well as being painful and itchy, skin infections can lead to serious, life-threatening illnesses such as chronic heart and kidney disease, so I've developed national guidelines and research projects focusing on strategies to easily recognise, treat and prevent nasty skin infections and ensure these kids have healthy skin and healthy lives," Dr Bowen said.

The Tall Poppy Science Awards are run by the Australian Institute of Policy and Science and recognise up-and-coming scientists who combine world-class research with a passionate commitment to communicating science. Many Young Tall Poppies go on to achieve even greater things and become inspiring leaders in their field.
Media references
Simone Hewett (UWA Media & PR Adviser)                                                               08 6488 7975
Tags
Channels

Awards and Prizes — Media Statements — Research — Science — University News

Groups

Faculty of Health and Medical Sciences — Migrate — School of Medicine and Pharmacology — Science Matters