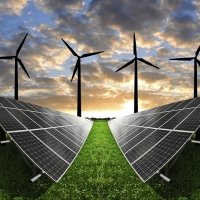 Thursday, 19 September 2019
The Vice-Chancellor recently announced that UWA campuses will be energy carbon neutral by 2025. This is a key objective addressing the Grand Challenges identified in the Strategic Plan 2020-25 and will elevate UWA to one of the leaders in aiming to achieve carbon neutrality within Australia and particularly within Western Australia.
The University is developing a series of exciting initiatives aimed at:
reducing energy use
generating renewable energy on-site (solar photovoltaics)
ensuring our energy comes from renewable sources (from an off-site renewable energy farm)
offsetting carbon emissions from natural gas use.
Energy Carbon Neutrality reinforces UWA's commitment towards Clean Energy, one of the seven focus areas for the University, and supports the notion that it is 'walking the talk'. This work also affords the University opportunities to integrate its teaching and research activities with its operations, explores opportunities such as energy storage; demand management and emerging technologies.

Director of Campus Management, Trevor Humphreys said energy carbon neutrality for UWA by 2025 is a bold and positive statement and is a differentiator for us.
"There is a lot to do but the commitment means that we need to act quickly," Mr Humphreys said.
What are we doing now?
Energy Audits – to identify opportunities for reducing energy use through building and services upgrades. The audits, which are currently underway, involve inspection of general and plant areas.
Solar Photovoltaics (PV) – we are installing more solar PV arrays on campus, starting with the Indian Ocean Marine Research Centre building. Other installations include the Civil and Mechanical Engineering building and an extension of the Business School solar array (will be rolled out progressively over the next few years).
Thermal Energy Storage (TES) - the TES project aimed at increasing the capacity of thermal energy used for building air-conditioning and research equipment cooling is currently underway. TES will also enable the University to shift the time of its electricity use to optimise the use of its chiller plant and solar PV arrays and reduce its energy costs.
What are we doing in the future?
Energy Efficiency Upgrades - as a result of the energy audits (currently underway), the University will identify and undertake efficiency improvements to reduce energy use on campus. This may be in the form of LED lighting replacements, lighting control upgrades and mechanical services upgrades.
Renewable Energy Procurement - the University is exploring a renewable energy power purchase agreement to ensure that its energy is generated from renewable sources, such as a solar or wind farm in WA.
Collaborate - the University is undertaking exciting research in Clean Energy within its faculties-including: Power and Clean Energy Research Group; Renewable Energy Vehicle Project, Centre for Energy, Centre for Energy Geoscience and Wave Energy Research Centre. The University will continue to pursue partnership opportunities within teaching, research, industry and campus operations.
What can you do?
Be aware of your environmental footprint in your work area and reduce all unnecessary energy use (e.g. lighting, air-conditioning, computers, appliances, etc.) through your actions and purchasing decisions.
Engage with the Green Impact program to identify any opportunities for energy savings and campaigns.
Be ambassadors for UWA's sustainability commitment and extend the understanding of sustainability not as a 'niche' issue but as prevailing and mainstream.
If you would like to know more about the Energy Carbon Neutral project and how you could be involved, contact [email protected] .edu.au
Tags
Groups

Campus Management