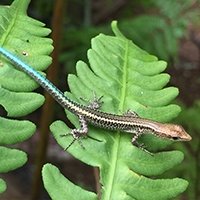 Tuesday, 10 September 2019
The critically endangered Christmas Island blue-tailed skink is being released back into the wild following a successful decade-long captive breeding program.
The University of Western Australia has been a research partner with the Threatened Species Recovery Hub and will monitor the next phase of the project.
Three hundred blue-tailed skinks will call Pulu Blan, a tiny island in the Cocos (Keeling) Islands archipelago, their home.  Half the skinks were transported from Christmas Island National Park, while the other half made a 6000km journey from Taronga Zoo in Sydney, in the main cabin of a Virgin Australia aircraft.
The University of Western Australia PhD student Jon-Paul Emery said the project, which started in 2009 through Parks Australia and Taronga Zoo, had captured the last wild blue-tailed skinks to initiate captive breeding.
Captive breeding has been highly successful with more 1000 blue-tailed skinks now living in captivity on Christmas Island.
"With the help of Christmas Island National Park staff, I have been monitoring trial releases of blue-tailed skinks inside a large predator-controlled area on Christmas island," Mr Emery said.
"Through our monitoring, we now have a much better understanding of their habitat requirements in a wild context.
"Using methods we have refined on Christmas Island, UWA masters student Kristen Schubert will study the skinks released on the Cocos Islands, to compare two management options. She will also compare the survival and behaviour of skinks sourced from Taranga Zoo and from the Christmas Island captive breeding program."
Environment Minister Sussan Ley said the first 150 skinks were released on the island on Threatened Species Day (7 September 2019), after their long journey. The skinks will be joined by a further 150 skinks from Christmas Island National Park's population.
"The trial release of Christmas Island blue-tailed skinks into the wild is the culmination of 10 years of work led by Parks Australia and supported by many fantastic partners," Minister Ley said.
"Without Parks Australia's dedicated staff on Christmas Island this beautiful species would now be extinct. Instead we have two healthy populations that have been bred in captivity – one on Christmas Island and one at Taronga Zoo in Sydney.
"Now we've taken the next step on the path to survival – a translocation into a wild setting to help safeguard the Christmas Island blue-tailed skink from extinction."
Christmas Island National Park ranger Brendan Tiernan was part of the rescue mission in 2009 and 2010 that saved 66 skinks before the population was wiped out. It's these skinks that formed the basis for two populations successfully bred in captivity.
"We hope to provide a safe refuge for this beautiful species outside of captivity and away from introduced predators like wolf snakes, giant centipedes, rats and cats that decimated the species on Christmas Island," Mr Tiernan said.
World-leading reptile experts and scientists have provided advice throughout the project to support the survival of the blue-tailed skinks.
Media references
Jess Reid (UWA Media and PR Adviser) 08 6488 6876
Tags
Channels

Media Statements — Research — Science — University News

Groups

School of Biological Sciences — Science Matters