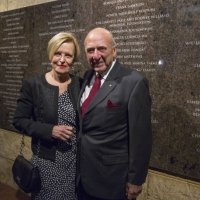 Tuesday, 10 September 2019
Former Chancellor and Clinical Professor of Medicine Alex Cohen has been remembered by his family, friends, former students and colleagues as a compassionate, hard-working and popular man with a great sense of humour.

Unable to study medicine in Perth because UWA did not have a medical school until 1957, Professor Cohen obtained his medicine degree at The University of Adelaide. He went on to train as an endocrinologist with a focus on diabetes mellitus.

Professor Cohen was awarded the Australian Medical Association (WA) Award in 2013 for his outstanding contribution to diabetes research in Western Australia.

He also received an Order of Australia medal in 1995 for his efforts in improving diabetes research and care in the State.
Professor Cohen was instrumental in setting up the Centre for Diabetes Research at UWA. The Diabetes Research Foundation WA now honours Professor Cohen's contributions in the field with a scholarship set up in his name.

The Alex Cohen Scholarship was created for the purpose of providing top-up scholarships to students awarded an Australian Postgraduate Award to conduct research in all forms of diabetes.

Professor Cohen served as chair of the finance and investment and resources committees at UWA, director of clinical training at Hollywood Private Hospital and director of postgraduate medical education at Sir Charles Gairdner Hospital.

He also held many positions within the community as Convenor and Chair of the Specialist Medical Review Committee for the Commonwealth of Australia's Department of Veteran's Affairs, Director of the Risk Management Program for the Medical Defence Association of WA, President of the Diabetes Research Foundation of WA and Director of the National Board for Diabetes.

He was President of the Royal Australasian College of Physicians and of the Australian Medical Association (WA), Emeritus Consultant Physician and Endocrinologist at Sir Charles Gairdner Hospital and Royal Perth Hospital, a Fellow of the Australian Medical Association and Wolfson College Oxford, and a past Research Fellow of Harvard University Medical School.

UWA awarded Professor Cohen an Honorary Doctorate of Letters in 2002. Professor Cohen was also a great friend of the Convocation of UWA. He delighted in annually presenting the prestigious Alexander Cohen Postgraduate Research Travel Award to an outstanding student.

We offer our sincere condolences to his family and to all those whose lives were touched by this remarkable man.
Vale Emeritus Professor Alexander Cohen.
Media references
Simone Hewett (UWA Media and PR Adviser) (08) 6488 7975
Tags
Channels

Alumni — Media Statements — Research — University News

Groups

Faculty of Health and Medical Sciences — Migrate — School of Medicine and Pharmacology