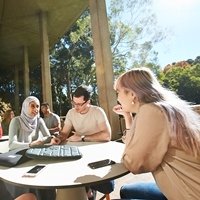 Friday, 6 September 2019
Following extensive consultation, the Student Experience Strategy, Experience UWA 2025 , is nearing completion.
It will be our blueprint to enable success for each and every student, and help us realise our ambition to position UWA as a national leader across student retention, career development, and the provision of services that support our students on and off campus. It will also drive our engagement with students across co-curricular activities involving the arts, sport and citizenship.
The strategy is structured around seven pillars and four foundation themes. In addition to one of the pillars being Inclusive and Diversified Student Community , inclusivity is a foundation theme that permeates across each of the pillars and is central to way in which Experience UWA 2025 will help foster a culture of inclusion at the University. The following text provides examples of our approach to this endeavour.
To ensure all members of the University community are able to work and study in a safe environment, we will oversee the implementation of a University-wide Safer Communities Action Plan. Key representatives from the University, Student Guild and College Row have come together to:
deliver and report against recommendations in the Australian Human Rights Commission, Change the Course report;
identify, prevent and mitigate safety and wellbeing issues across UWA, including online spaces; and
deliver and communicate best practice procedures related to student safety and wellbeing.
Short-term foci for this group include a new bystander education program, an audit of campus lighting along Walk Safe routes, and the introduction of a Safer Community Award to celebrate successes in student safety.
To increase the accessibility of the University's affiliated colleges and surrounding accommodation, we will roll-out the new UWA Hackett Scholarship . To be eligible for the scholarship, a candidate must be a Year 12 WACE student in the top 10 per cent of their school (based on ATAR). Recipients will receive between $1,500 and $ 5,000 per annum towards accommodation. The scholarship program is designed to encourage eligible Year 12 WACE school leavers with great potential to undertake a bachelor's degree at the University.
Central to our contribution to fostering a culture of inclusion, we will continue to support lifelong learning, delivering programs engaging future students from primary school through to adult learners. Primary and secondary students from non-traditional backgrounds will continue to be encouraged to aspire to, and access, university through Student Equity programs, including Aspire UWA and Fairway UWA. In addition, the Mature-age Access Program (MAP), delivered by StudySmarter, offers a conditional entry pathway to mature-age applicants with little or no previous study experience. Students will continue to be supported in their transition and throughout their degree.
Finally, in partnership with the School of Indigenous Studies and Indigenous elders, learning programs incorporating Indigenous culture will be delivered to students across the University. These will be both formal and informal in nature and form part of a broader suite of co-curricular experiences.
These offerings will not only contribute to a more inclusive environment for our Indigenous students, but also provide an opportunity for our non-Indigenous students, including international students, to connect with the cultures of Australia's first peoples.

This is just a snapshot of the ways in which Experience UWA 2025 will contribute to fostering a culture of inclusion at the University. We look forward to working with you to bring this strategy to life.
Tags
Groups

Education Quarterly