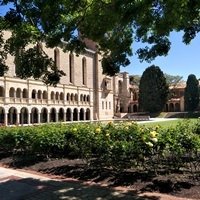 Thursday, 5 September 2019
To meet the needs of students with a disability and ensure their access and participation in education on the same basis as other students, universities offer specialist disability services guided by the Disability Discrimination Act (1992) and the Disability Standards of Education (2005). At UWA this service is provided by a team of UniAccess accessibility advisers.
UniAccess staff have noted a significant number of students with Autism Spectrum Disorder (ASD) studying at UWA, and anticipate this trend may continue. However, it is suggested that students with ASD experience significant challenges to completing their studies at a university level, both from an academic and social perspective, including thoughts of withdrawing from their courses.(1) Within the primary and secondary school setting, students with ASD receive highly customised intensive support, only to transition to University where they are expected to be independent adult learners.
Peer support programs focused on building personal management, communication and social skills have been identified as welcome additions in assisting students with ASD to foster a sense of belonging at university.(2)
The UWA Specialist Mentoring Program provides peer support to students on the autism spectrum. This UniAccess and School of Psychological Science affiliated program assists students navigate university life and potential difficulties they may encounter in a tertiary education environment. Students with ASD are paired with a volunteer peer mentor from the current UWA Psychology honours cohort. Peer mentors are trained in Autism Spectrum Disorder, upskilling them to provide support and guidance towards the attainment of mentee's academic, social and employment goals throughout the semester. The program consists primarily of individual meetings between mentor and mentee alongside weekly group social gatherings.
Mentees voiced that the program beneficially supported their university studies, assisting them to manage issues that arose during the semester and identified improvements in their average grades. In recent feedback students shared their stories and identified the following four factors to enhance their student experience.
Raise awareness of autism and other disabilities. Students suggested that creating a series of disability awareness modules raising awareness of ASD and other disabilities alongside available supports would be beneficial to integrate within new student orientation and staff induction programs. The aim would be twofold: to promote the development of a more informed and inclusive campus culture, and to potentially break down barriers to disclosure and accessing support.
Foster inclusive access to learning . The need for accessible learning materials and unit content was identified by students. These included recorded and captioned lectures alongside distant access to real-time classrooms through online collaborative solutions. Equipping teaching staff with the strategies and tools to create content and learning environments catering for students with a diversity of disability was voiced to potentially benefit all students.
Inclusive physical environment . Students identified the need to provide safe study and eating spaces alongside sensory rooms across the University campus. These would provide alternative spaces to those busy and interactive student hubs where libraries and cafes are commonly located on campus, which are often overstimulating for students with ASD. Students voiced that soundproofing, blinds or frosting would be beneficial within these spaces, alongside a range of bookable sensory tools.
Online disability support portal . Students would like a central online support portal where they can schedule appointments and activities with accessibility advisers, access educative resources about different disabilities, find information on reasonable adjustments and support programs that would assist them. This portal would house all of their records and access plans, streamline processes and send students real time reminders regarding important dates and tasks to be actioned.
Bibliography
1. Gurbuz, E., Hanley, M., & Riby, D. (2019). University Students with Autism: The Social and Academic Experiences of University in the UK. Journal of Autism and Developmental Disorders , 49(2), 617–631. https://doi.org/10.1007/s10803-018-3741-4
2. Owen, C., McCann, D., Rayner, C., Devereaux, C., Sheehan, F. & Quarmby, L. (2016) Supporting Students with Autism Spectrum Disorder in Higher Education . Report submitted to the National Centre for Student Equity in Higher Education (NCSEHE), Curtin University: Perth.
Tags
Groups

Education Quarterly