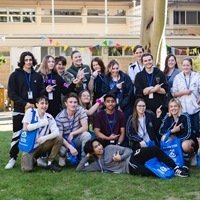 Wednesday, 4 September 2019
In 2019 we are celebrating the 10-year anniversary of Aspire UWA.

Aspire UWA has been fostering aspirations for higher education and supporting the academic culture of partner schools since 2009, when the program began working with six secondary schools in the Pilbara and 18 schools across Perth.
The program now works with 73 partner schools across Perth, Peel and northern Western Australia, reaching more than 15,000 students annually and 70,000 students since its inception.
Founded on a community partnership model, Aspire UWA develops rich, ongoing relationships with schools across Western Australia to raise aspirations, build academic capacity and create meaningful opportunities for success and lifelong learning through higher education.
Program offerings and delivery are tailored to meet the individual contexts, needs and ambitions of schools and students. We deliver in-school workshops and on-campus events that support students' academic capacity, increase awareness of educational and career opportunities, and highlight the breadth of disciplines available to study at university.
Current UWA students engage with the program as student ambassadors, volunteering more than 1,000 hours per year. Ambassadors are also provided with work experience, networking and professional and personal development opportunities, enhancing their skills and providing on-campus paid work which assists their ability to stay engaged in their studies. As such, our programs are aligned with UWA's vision for inspiring the next generation of global leaders with excellence, integrity, innovation, collaboration and equity.
Aspire has had a strong commitment to internal collaboration since inception, and is delivered by Student Life in partnership with the School of Indigenous Studies and the Faculty of Health and Medical Sciences.
Student Equity continues to collaborate with other outreach and education initiatives across the University, ensuring UWA continues to actively support students with great potential from diverse and disadvantaged backgrounds. External partners, including Scitech and our Community of Supporters (including the Alcoa Foundation and BHP), have a strong commitment to increasing equity of opportunity across Western Australian schools. It is thanks to these benefactors that Aspire has been able to reach more communities and regions across WA.
Some of the testimonials received from students, teachers and external partners are testament to the strength of the program, and include:

"[The camp] made me more motivated about the things that I want to achieve… Thank you for the opportunity. See you in two years after high school." Year 11 student, Balga Senior High School

"I now realise that it is within my reach to go to university." Year 10 student, Mercy College

"I would like you to know how valued the program is at our school; I really do think it is making a difference in encouraging post-school education within our community." Rebecca Beaney, Science Teacher/Academic Extension Program Coordinator, Pinjarra Senior High School

"These kids are on the cusp of a decision that will play a huge part in the rest of their lives. Being able to talk to and help guide them in any way through making that decision is a privilege." Richard Yeates, Chemical Services Manager, Alcoa of Australia

Our partnerships with schools, students and across the University help support UWA's goal for 2030 to be relevant to the communities and regions we serve, bridging the gaps between education, academic theory and real-world experience.

A key component of our 10-year celebrations is a Social Impact Competition, with secondary school students across our partner schools taking up the Grand Challenge of making education accessible for all.

The winners will be announced at a key anniversary celebration on Thursday 21 November.
Tags
Groups

Education Quarterly