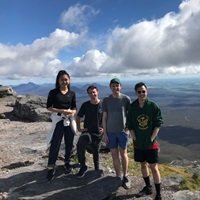 Wednesday, 4 September 2019
Engaging with students from non-traditional backgrounds has long been a major challenge for our University.
All too often we are seen by prospective students and by the community as an ivory tower which helps the powerful to pass on social and cultural capital to their children. Throughout my time as President of the Student Guild this year, I have had the opportunity to challenge this notion both internally and externally in our mission to engage and support every student.
Regional WA suffers a huge education gap compared with the metro area. It has been a privilege for me to be able to represent these students, and to travel to the Albany Centre to hear about their challenges. Earlier this month, I ran a consultation session on the University's Regional Strategy in collaboration with the University's Education team. Their concerns range from the lack of availability of units at the Albany campus, to employability in their community, to their teachers turning off the microphone and rendering their lecture recording useless. Engaging with students at our Albany campus is an essential step in providing a more equitable access to education for students in regional parts of Western Australia.
Students in Albany also miss out on a lot of the co-curricular experiences which are so important, but often taken for granted by students studying on the Crawley campus. In our few days in Albany, we were happily able to add to the 'out of the classroom' experience of Albany students, running a series of social, volunteering, and informative events.
The Guild is also trying to engage more and more with groups of students from diverse backgrounds. For me, advocating for every student is core to our mission. We do this through autonomous departments of the Guild that create a forum for these students to raise their issues. While there is a still a long way to go, I believe we are on the right track, especially through engagement via forums such as the LGBTQIA+ working group and the Inclusion and Diversity Committee. These create a space to discuss important topics such as preferred names for trans students, or creating new structures to be the voice of culturally and linguistically diverse students or students from low-SES backgrounds.
Earlier this year we endorsed our Indigenous Strategy, which was created in consultation with Indigenous students at UWA, and aims to improve the engagement, respect, and support for Indigenous people who interact with the Guild. We have since started to implement the strategy, which has been challenging and confronting, but at the same time immensely important and rewarding.
For us to be a truly great university, we ought to be an inclusive one. This means engaging with our community to improve the welfare and prosperity of all Western Australians, it means being equitable and inclusive in our work culture, and it means ensuring that a UWA education is accessible, available and engaging to students who may not have otherwise have had the chance to study here.
The most effective change is made by many people doing something small. As much as we can change policy and procedure to include others and invite them in, authentic inclusion requires all of us to make a conscious effort to go the extra mile for others.
Conrad Hogg
106th Guild President
UWA Student Guild
[email protected]
Tags
Groups

Education Quarterly