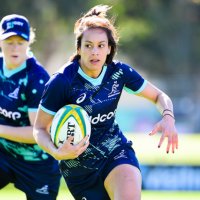 Monday, 2 September 2019
One of the stars of Team UWA's upcoming Uni 7s campaign, Mhicca Carter, is destined for cross code success after signing for West Coast Eagles during their debut AFLW season.
A leader at all levels of the game, Mhicca has captained Rugby WA's Super W team and played for the Wallaroos, including in a two test series against the New Zealand Black Ferns.
Mhicca will make her debut for UWA in the Aon Uni 7s competition on 14 September, leading the team as one of the most senior players.
This seniority is one of the factors that led the West Coast Eagles to sign the New Zealand-born player.
With a strong athletic career already established, and as a known communicator on the field, Mhicca is well placed to elevate the professional standards of the fledging team.
Speaking to the West Coast Eagles, Carter said she could not wait to test her skills in the AFLW arena.
"I never really saw this coming, so this is a huge privilege and I'm really excited to be joining the team," she said.
"I think the transition is going to be really challenging, but really exciting for me as well.
Media references
Louis Humberstone
UWA Sport Marketing, Communication and Events Coordinator
6488 4309
Tags
Channels

Sport

Groups

UWA Sport