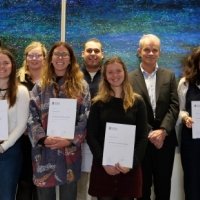 Friday, 30 August 2019
Thirteen talented young marine students from The University of Western Australia's Oceans Institute today received a major boost to support their doctorate research.
Working across a diverse range of innovative projects in ocean science, the 13 PhD students were awarded between $1,000 and $8,000 each through the 2019 Robson and Robertson Awards Scheme, made possible through a generous donation from the Jock Clough Marine Foundation.
They'll use the funds to cover experiment expenses, training, conference attendance, fieldwork and further study.
The Awards honour Professor Alan Robson AO CitWA and Emeritus Professor Alistar Robertson for their integral role in the establishment of UWA's Oceans Institute, and have a very clear goal - to encourage and support young researchers in the field of marine science.
They include a five-year fellowship designed to support early career researchers, which is currently held by Dr Matthew Fraser.
A specialist in benthic ecology, Dr Fraser is developing innovative solutions to improve the conservation and management of our coastal ecosystems.
In presenting today's awards, Chairman of the Oceans Institute External Advisory Board Mr Jock Clough said he was impressed with the breadth and depth of research being undertaken by the young researchers and their passion for marine science.
" Just like the leaders the awards honour, these recipients are significantly contributing to the research into the future health of our oceans," Mr Clough said.
Today's awardees brings to 36 the number of students who have been recipients of a Robson and Robertson Award.
The 2019 awardees are:
Malindi Gammon (Project: Predicting the vulnerability of flatback turtle rookeries in the North West Shelf to a changing climate)
Nahlah Alsuwaiyan (Project: The role of genetic diversity on temperature resilience of the early life stages of the Australian kelp)
Camille Grimaldi (Project: Oceanographic drivers of coral reef connectivity off Northwestern Australia - joint research project between UWA and AIMS)
Victoria Cammilieri Asch (Project: Neurobiological indicators of olfactory sensitivity in a cartilaginous and a bony fish)
Matilda Murley (Project: Investigating invertebrates on intertidal rock platforms in Western Australia: species diversity, habitat distribution and traditional ecological knowledge)
Hannah Calich (Project: Movement and habitat use patterns of highly migratory sharks)
Lucy Arrowsmith (Project: Global whale shark study and shipping movements)
Jessica Kolbusz (Project: The role of oceanographic processes on recruitment of the Western Rock Lobster)
Laurence Dugal (Project: Developing environmental DNA metabarcoding techniques for ecosystem biodiversity assessments)
Naima Andreas Rodriguez (Project: Shark aggregations underpin conservation but where are they and when do they occur?)
Paige Maroni (Project: A phylogeny today, pharmaceutical exploration tomorrow: Next generation sequencing to resolve the radiation of species in the Doris 'kerguelenensis' complex)
Mario Conde-Frias (Project: Sediment transport processes within coastal ecosystems)
Renan da Silva (Project: Understanding and predicting the impact of nearshore submerged structures on coastal processes with application to wave energy converters)
Caption: Seven of today's happy awardees with Deputy Director of the Oceans Institute Professor Julian Patrridge (far left), Chairman of the Institute's External Advisory Board Mr Jock Clough (third from right) and Oceans Institute Director Professor Peter Veth (far right).
Media references
Liz McGrath (UWA Oceans Institute)         +61 433 795 509
Tags
Channels

Science

Groups

Oceans Institute