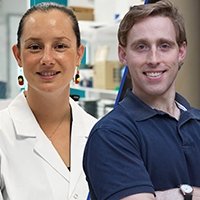 Wednesday, 28 August 2019
A medical researcher developing ways to improve the treatment of brain tumours in children and a physicist who hopes to create the world's first laser link in WA for use in space missions are recipients of prestigious 2020 Forrest Fellowships.
Forrest Research Fellowships are provided to outstanding early career researchers to undertake high quality research at any of the five universities in Western Australia. Dr Jessica Buck and Dr David Gozzard are two of four recipients to receive a 2020 Forrest Fellowship and will carry out their research at The University of Western Australia.
Dr Jessica Buck who is the first Indigenous Forrest Fellow and previously studied at the University of Oxford where she was the first Aboriginal woman to graduate with a PhD, will take up her Fellowship at UWA and Telethon Kids Cancer Centre.
Dr Buck said she was passionate about making a difference to the quality of life and health in children.
"Brain tumours kill more Australian children than any other disease, and current treatments such as surgery and radiotherapy can have devastating effects," Dr Buck said.
"Through my research I'm looking forward to helping develop new drugs and treatments to improve survival rates and reduce lifelong harms that can result from brain tumours.
"As an Aboriginal woman I'm also very passionate about mentoring aspiring Aboriginal researchers in the STEM field and helping grow a new generation of passionate scientists to drive innovation in Western Australia."
UWA graduate Dr David Gozzard, a recipient of a 2017 WA Premier's Science Award who is currently based at the Australian National University, will be coming to UWA to research how satellite and new technologies can be used to improve space exploration.
"A major challenge facing space missions is the limited precision and transmitted data rates achievable through radio communications," Dr Gozzard said.
"Through the Fellowship I hope to develop a transmitter and terminals able to steer a laser beam through the turbulent atmosphere to better enable spacecraft to study our planet and explore the solar system.
"I'm excited to be given the opportunity by the Forrest Research Foundation to work alongside world-leading researchers and learn from the brightest minds."
Minderoo Foundation co-founder Dr Nicola Forrest AO said the calibre of Forrest Fellowship applicants had been truly exceptional this year.
"I am thrilled to welcome Jessica and David to the program and I look forward to following their progress at UWA," Dr Forrest said.
The Forrest Research Foundation aims to attract the brightest minds to conduct research in Western Australia. The Foundation provides support to international and domestic students to enrol in a Doctor of Philosophy (PhD) degree at one of the State's universities and also supports leading researchers who are at the start of their career by providing post-doctoral fellowships.
For more about the Forrest Research Foundation, visit www.forrestresearch.org.au
Media references
Jess Reid (UWA Media and Public Relations Adviser) 08 6488 6876
Tags
Channels

International — Media Statements — Research — Science — Students — University News

Groups

Faculty of Engineering and Mathematical Sciences — Faculty of Health and Medical Sciences — Migrate — Science Matters