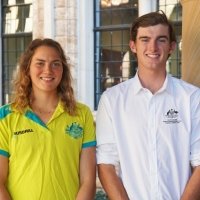 Monday, 26 August 2019
UWA Sport has selected the recipients for the 2019 Sports Bursaries after one of the strongest list of applicants in recent years.
Zac Littlewood has been named Convocation Male Bursary recipient, the highest ranking award in the program awarded to the most outstanding elite male athlete amongst the nominees.
The first year student is yachting superstar who made his mark by becoming Australia's youngest open-class world champion at just 17.
Recently Zac was part of a dramatic final race at the Hempel Youth Sailing World Championships where he finished with silver.
The most outstanding elite female athlete amongst the nominees, Phillipa Morgan, was awarded the Convocation Female Bursary.
Phillipa is a UWA talent who has represented Western Australia at the U21 level.
Most recently, Phillipa claimed bronze as part of the Western Australian team that travelled to New South Wales for the U21 Australian Hockey Championships.
The WM Nunn Bursary has been awarded the Aquathlon athlete Rahul Jegatheva.
Open to all current first year UWA students, the bursary is awarded in recognition of UWA Student Athlete Wally Marshall Nunn, who won an unmatched four full blue awards across the sports of athletics, rugby, swimming and rowing.
Rahul was named a world champion at 16, and a Champion of Champions at 17, with the best days of his aquathlon career still ahead of him.
Anika Gosling has been awarded the Indigenous Athlete Bursary, created to recognise the achievements of Indigenous student athletes within UWA.
In April Anika travelled to Sydney to represent Team UWA in Nationals Athletics, where she took bronze in discus and finished fourth in shot put.
Congratulations to all bursary recipients for 2019.
Find out more information on elite athletes at UWA here .
Media references
Louis Humberstone
UWA Sport Marketing, Communication and Events Coordinator
6488 4309
Tags
Channels

Sport

Groups

UWA Sport