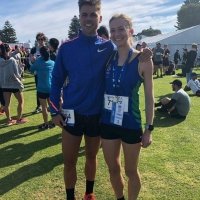 Monday, 26 August 2019
A number of UWA athletes were crowned champion of their category at Perth's annual City to Surf last weekend (25/08).
Thousands of runners hit the pavement on a crisp morning for one of the WA running community's most loved events.
UWA student athlete Ben Chamberlain was outright winner of the 12km event, finishing with a time of 36:57.60.
Ben returned to the 12km event after finishing second in the half-marathon at HBF Run for a Reason earlier this year.
Fellow UWA Athletics Club runner and UWA Sport staff member Keely Waters was the first female to cross the line, besting the 12km in 46:46.27.
UWA Research Fellow Dr Roberto Busi was the first in the 40-49 category to cross the line, finishing sixth overall.
Student athlete and UWA Run Club leader Sarah Hynes was the first to finish the Open Women's 4km, with a time of 14:35.15.
Another student athlete, Aidan Read, was not far behind finishing 25th in his category with a time of 15:27.30.
It was another fantastic event for the WA runners who got up early to hit the pavement and raise important funds for charity.
Media references
Louis Humberstone
UWA Sport Marketing, Communication and Events Coordinator
6488 4309
Tags
Channels

Sport

Groups

UWA Sport