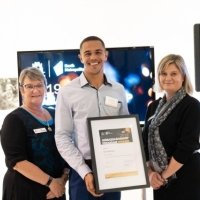 Thursday, 15 August 2019
North Metropolitan TAFE has announced its 2019 Ambassadors – a group of outstanding students whose lives have been enriched by training and a group of dedicated trainers who helped get them there.
UWA Sport Customer Service Officer Ben McGuire was named Trainee of the Year at a celebration event in late July.
Ben pursued his passion for sport by completing a traineeship in SIS30115 Certificate III in Sport and Recreation with UWA Sport and the support of Wirrpanda Foundation.
As part of the traineeship, he combined part-time study for a Certificate III in Sport and Recreation with full-time work at UWA Sport.
During this time Ben worked in student athlete support, helping them balance study and sport.
As an athlete in his own right, the balance between sport and study was one that Ben could relate to, as he worked his way through the ranks at East Perth Football Club.
2019 has been a breakout year for the young player, as he made his in to the league team.
Previously, Ben finished Year 12 at Trinity College, and completed a school-based traineeship in customer service with Qantas.
Media references
Louis Humberstone
UWA Sport Marketing, Communication and Events Coordinator
6488 4309
Tags
Channels

Sport

Groups

UWA Sport