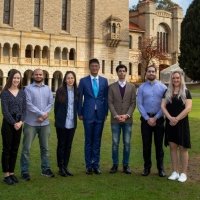 Thursday, 15 August 2019
Seven early career researchers from The University of Western Australia are among 13 recipients to receive prestigious Western Australian Government Science Industry PhD Fellowships.
Presented today as part of the government's $16.7 million New Industries Fund (round two, 2019), the Fellowships support science and industry collaboration and aim to help PhD students studying STEM make an impact in economic high growth areas.
UWA Deputy Vice-Chancellor (Research) Professor Robyn Owens said it was pleasing to see research addressing real world challenges supported through the program.
"The Fellowships will help young aspiring researchers develop, allowing them to work on projects that will have a direct impact on industry and where they will learn from experienced professionals in the field," Professor Owens said.
The Fellowships provide a $10,000 a year top-up to PhD scholarships for three years with students working with a local company. Students will benefit from training and learning opportunities through the companies they are collaborating with.
UWA Fellowships
Omar Anwar in partnership with Elixir Honey
Omar will work on state-of-the-art bee hive monitoring systems to predict and improve the health of honey bees.
Liam Cummins in partnership with FMG Autonomy Pty Ltd
Liam will test the feasibility of Mobility as a Service (MaaS) to relieve traffic congestion in Perth and decrease pollution.
Katarina Doughty in partnership with Aquatic Life Industries
Katarina will analyse sustainable aquaculture practices to develop environmentally efficient ways of breeding Rainbow trout.
Gereltsetseg Enkhbat in partnership with PGW Seeds
Gereltsetseg will research ways of building resilience in legume crops to tolerate increases in climate variability.
Saleh Kaji Esfahani in partnership with ATCO
Saleh will explore sustainable hydrogen energy production in residential buildings to produce more energy than what is consumed.
Jiayue Li in partnership with OrthoCell
Jiayue will trial a new bioreactor system integrated with medical imaging technology for use in musculoskeletal tissue regeneration.
Grace Scullet-Dean in partnership with Alcoa
Grace will look at ways of preventing environmental impact from by-products of bauxite (aluminium ore) used in mining.
The recipients join UWA students Clara Elisa Castanos Sanchez dela Barquera (partnering with Bee Industry Council of Western Australia), Behzad Shiroud Heidari (partnering with Orthocell), Jonathon Stewart (partnering with Jurcevic Consulting) and Priyanjali Mithal (Perth Clinic Trust) who were successful in the first round of the program earlier this year.
Image accompanying article - left to right Grace Scullet-Dean, Omar Anwar, Gereltsetseg Enkhbat, Jiayue Li, Saleh Kaji Esfahani, Liam Cummins and Katarina Doughty.
Media references
Jess Reid (UWA Media and PR Adviser) 08 6488 6876
Tags
Channels

Business and Industry — Media Statements — Research — Science — Students — Teaching and Learning — University News

Groups

Faculty of Engineering and Mathematical Sciences — Faculty of Health and Medical Sciences — Graduate School of Education — Migrate — Oceans Institute — Science Matters