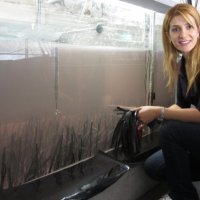 Tuesday, 13 August 2019
As an expert in hydraulics and environmental fluid mechanics, Dr Maryam Abdolahpour could have expected to spend time in oceans research, but she probably never imagined the role of seagrass would play in her career.
Before starting her PhD at UWA, Dr Abdolahpour worked at the Department of Hydraulic Structures in her home country of Iran where she was the first female engineer in the organisation's 45-year history.
Now a Senior Research Associate, she also became the first person in Australia to do a PhD jointly enrolled in two universities (UWA and Edith Cowan), but was dismayed when she first realised her thesis would combine physics with ecology.
"I was asked to look at the factors affecting aquatic canopies, such as coral reefs and seagrasses, and I tried to convince my supervisors to change the topic because I'd never worked with seagrasses before!" she says.
"Two of my supervisors were ecologists which for me was a bit strange at first – particularly with my strong engineering background. But they were so passionate about the topic they convinced me to stick with it.
"Their passion motivated me for what was to come. It was fascinating to see how my results could help them to find answers to some critical ecological questions.
"I'm glad they did convince me because it turned out to be an amazing PhD subject. Understanding the physics behind the wave-canopy interaction helps us predict and manage many of the most critical and challenging ecological processes going on under the ocean," Maryam says.
Seagrasses, the flowering marine plants that live in shallow coastal waters across most parts of the world, play a vital role in our oceans.
Known as the ocean's rain forests, they play a similar role in marine ecology – protecting coastlines from rising tides and storms by taking energy out of the water, stabilising the sea bottom and providing an important habitat for thousands of ocean animals, from tiny invertebrates, crabs and turtles to larger fish and birds.
It's well documented that coastal pollution and overfishing have taken their toll on these plants of the sea, depleting them at an alarming rate, something scientists from different disciplines from across the globe are working on.
Using physics to help understand ecology
Dr Abdolahpour says as part of her thesis in researching the sediment transport in flows she designed a variety of artificial seagrass mats, culminating in a product that was bio-degradable and that could be used in test situations in a wave/current flume.
Her initiative has gone on to have practical applications and has caught the attention of both conservationists and the oil and gas industry.
"I designed some artificial seagrass (which acts and behaves exactly like the real seagrass) that could be used in a laboratory situation, but then thought, let's see how these behave in the field," she says.
"I could see the possibility they may assist in protecting against coastal erosion as seagrasses actually help take some of the energy from the waves.
"In parallel with that, I thought if seagrasses are so effective in trapping particles and sediment, why not use the artificial seagrass mattresses around offshore structures to help stop and mitigate and control scouring along subsea pipelines."
A project with Woodside followed and Maryam is currently working with Masters and PhD students who are using artificial seagrasses for a variety of different applications.
"The importance of seagrasses to our marine environment can't be underestimated and it's been so exciting to me to see the possibilities and potential for artificial seagrasses which have multiple uses from protecting our coastline, to ecotourism, to use by the oil and gas industry."
It's something Maryam says she will continue to explore amongst a busy mix of research and teaching.
Caption: A wide variety of applications. Dr Maryam Abdolahpour with her artificial seagrasses.
Media references
Liz McGrath (UWA Oceans Institute)         +61 433 795 509
Tags
Channels

International — Science

Groups

Oceans Institute