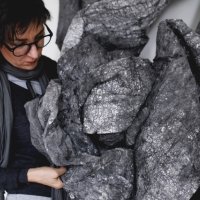 Tuesday, 13 August 2019
The annual HERE&NOW exhibition – a showcase of some of the most exciting and innovative artwork created in Western Australia – returns on Saturday 31 August 2019 to Lawrence Wilson Art Gallery at The University of Western Australia.
Curated by multidisciplinary artist and emerging curator Joanna Sulkowski, HERE&NOW19: Material Culture highlights the work of five contemporary Western Australian artists experimenting with textile materials in new ways.
Ms Sulkowski said the exhibition shined a spotlight on the unique ways artists were exploring textiles.
"Textiles can refer to a myriad of materials, such as fabric, thread, rope, yarn and even paper or plastic," Ms Sulkowski said. "Textile materials are abundant throughout our lives for important functional, aesthetic and symbolic reasons."
The exhibition features new work by a dynamic group of artists - Ómra Caoimhe, Teelah George, Susan Roux, Holly Story and Marzena Topka, who often incorporate textiles into their practice.
The artists' work for the exhibition ranges from meticulously stitched embroidery works, immersive installations, to video that explores the connection between clothing, bodies and capitalism.
"Each artist explores the material in unique ways, experimenting with it across installation, painting, drawing, sculpture and video," Ms Sulkowski said.
"The industrious and intimate nature of the work adds a personal meaning. Many of the artists in this exhibition use textiles as a way to explore critical socio-political issues."
Running until 7 December 2019, HERE&NOW19: Material Culture marks the seventh iteration of the HERE&NOW series. Established by Lawrence Wilson Art Gallery in 2012, each HERE&NOW exhibition is organised by an emerging curator to offer fresh insight and perspective on contemporary art practice in Western Australia.
UWA Chief Cultural Officer Ted Snell AM CitWA said the exhibition was wonderfully curated.
"Joanna has brought together a fantastic group of Western Australian-based artists who are pushing the boundaries of contemporary art practice and raising important questions about the world today," Professor Snell said.
HERE&NOW19: Material Culture will be accompanied by a series of public programs, including artist and curator talks, tours and a forthcoming symposium. For more information visit the LWAG website .
Image used in this article is of Susan Roux. Image courtesy of Daniel Grant.
Media references
Megan Hyde (UWA Cultural Precinct) 08 6488 7477
Jess Reid (UWA Media and PR Advisor) 08 6488 6876
Tags
Channels

Arts and Culture — Media Statements — University News

Groups

Arts