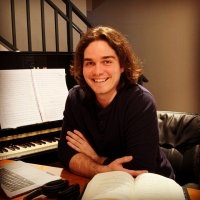 Wednesday, 7 August 2019
Music student Jordan Moore from The University of Western Australia cannot remember a time when music was not a big part of his life, and it seems his hard work has paid off with him being selected 2020 Young Composer in Residence with the Melbourne Symphony Orchestra.
The Young Composer in Residence is a year-long program unique to Melbourne Symphony Orchestra provided to one lucky recipient each year. It provides artists and musicians with opportunities to innovate and create contemporary classical works.
To be welcomed into the program is a huge honour for young, emerging artists who receive hands-on training and in-depth professional development opportunities through the program.
Jordan, 24, grew up in Geraldton and spent his school days developing a passion for music before starting a specialist degree in music composition at UWA in 2013. He commenced his Honours in 2018-2019 with the UWA Conservatorium of Music and will graduate shortly with a Bachelor of Arts (Hons) in Specialist Music Composition.
Jordan said when he was six he saw some family friends playing fun and dramatic pieces on the piano.
"I was amazed at how music could be so expressive and moving," he said. "I knew then that I wanted to be able to play like that and create pieces of music that could inspire people and leave a powerful, lasting impression."
Jordan said he felt incredibly honoured to be selected as the 2020 Young Composer in Residence with the Melbourne Symphony Orchestra.
"I feel so lucky, it really feels like my first big break in the Australian art music industry. What I am most excited about is the opportunity to collaborate and perform music with fantastic performers for the scheduled concerts in 2020. Being part of an immense project where everyone comes together will be the most rewarding experience."
Jordan will head to Melbourne early next year to take up the position
Media references
Jess Reid (UWA Media and PR Advisor) 08 6488 6876
Tags
Channels

Appointments — Arts and Culture — Media Statements — University News

Groups

Faculty of Arts, Business, Law and Education — Migrate — Music