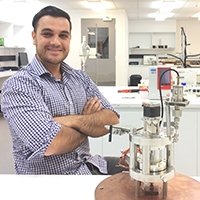 Monday, 5 August 2019
The University of Western Australia has a continual roll call of awards, scholarships and prizes presented to staff and students.
To recognise these achievements, an article is published on the UWA news page on the website and in UWA Forward on the first week of every month. If you know of great awards or achievements across the University please email [email protected]

Name: Professor Tony Hughes-d'Aeth, Faculty of Arts, Business, Law and Education.
Achievement: Professor Hughes-d'Aeth has received the Walter McRae Russel Award for his book, ' Like Nothing on this Earth: A Literary History of the Wheatbelt' (UWAP 2018). The award, presented by the Association for the Study of Australian Literature (ASAL) recognises outstanding works of literary scholarship on an Australian subject.
Name: Associate Professor Andrea Quagliola and Senior Lecturer Emiliano Roia, Faculty of Arts, Business, Law and Education.
Achievement: Associate Professor Andrea Quigliola and Senior Lecturer Emiliano Roia were announced as winners of the 2019 Marshall Clifton Award for Residential Architecture for their 'Cloister House' designat an award ceremony hosted by the Australian Institute of Architects (WA Chapter). Their house design is also one of three Australian homes to be shortlisted for the international Architectural Review AR House Awards.
Name: Arman Siahvashi, PhD Candidate, Faculty of Arts, Business, Law and Education.
Achievement: Arman Siahvashi has been featured as one of Australia's Most Innovative Engineers. The annual program, published in Create Magazine by Engineers Australia, showcases Australian engineers who are solving some of the world's biggest challenges. Mr Siahvashi's research focuses on improving the visual measurement process in liquid nitrogen gas (LNG) production.
Name: Professor Hans Lambers, Faculty of Science.
Achievement: Professor Hans Lambers has been awarded the International Society of Root Research (ISRR) Medal during an event organised by the Dundee Roots Group in Dundee, Scotland. The medal recognises his significant commitment to advancing research and understanding into plant root systems and soil.

Name: Assistant Professor Anna Waterreus, Faculty of Health and Medical Science.
Achievement: Assistant Professor Anna Waterreus, from the Neuropsychiatric Epidemiology Research Unit (NERU) has been awarded the 2019 Daniel Beck Memorial Award for Schizophrenia by Neuroscience Research Australia. The national award recognises commitment to exploring ways to prevent and cure schizophrenia.
Name: International Centre for Radio Astronomy Research (ICRAR) UWA Node.
Achievement: The UWA node of the International Centre for Radio Astronomy Research (ICRAR) has been awarded a Gold Pleiades Award by the Astronomical Society of Australia. The award acknowledges organisations that maintain a commitment to advancing diversity and inclusion in astronomical sciences and technology.
Name: Tom Manolas, Clare O'Connor, Brennan Edwards and Sanil Shah from the UWA Business School.
Achievement: Four UWA students studying the Consumers around the World unit at the UWA Business School and supervised by Professor Julie Lee and Karen Winter are part of the winning teams selected in the 2019 X-Culture Competition. The teams were presented with an international business challenge and asked to develop a solution. 5,000 students from 140 universities in 40 countries took part in the competition.
Congratulations UWA staff and students.
Media references
Nicholas Smith (UWA Media Officer)                                                                   08 6488 1888
Tags
Channels

Media Statements — University News

Groups

School of Biological Sciences