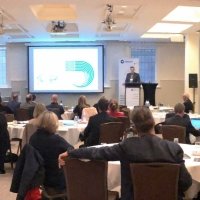 Thursday, 1 August 2019
The University of Western Australia's Manager of Major Projects and Project Manager of EZONE Student Hub, Merv Shortt, attended the Informa University Planning, Design and Construction Conference in Melbourne, last month, to gain some insights on how the increasing numbers of university students are influencing the way that university campus buildings are conceived and constructed.
The conference was chaired by Jon Hickman, Principal of Jon Hickman Strategy and Implementation, and featured presenters from all over Australia, including industry professionals from architecture and building backgrounds as well as university representatives.
Merv was invited to speak on the panel 'A closer look at innovative campus buildings and engineering facilities' where he took the opportunity to talk about the design inspirations and project objectives of the new EZONE student hub and what learnings came from the design and construction of the space. He also highlighted the student involvement in the project and the sustainable features of the building.
Some of the other topics for discussion covered by the conference included academic incubators, masterplan execution and effective strategic plans, student housing, transportation engineering, and renewable energy, and how they all relate to university planning in Australia.
The conference also featured case studies about university planning projects presented by Deakin University, Monash University, La Trobe University, University of Notre Dame, The University of Queensland, University of Sydney, University of Canberra, and Southern Cross University.
"The conference was brilliant and very informative and it was a great opportunity to be able to bench-mark what we do well here at UWA and showcase this work amongst our peers." Said Merv of his experience.
One discussion topic that fascinated Merv was presented by Graeme Spencer, Associate Director of Education, Science & Technology, HDR who spoke of using data and technology to inform design choices to understand future growth and planning future objectives and priorities, which Merv says will help to inspire his decisions for future projects.
Find out more about the University Planning, Design & Construction Conference here .
Media references
Leah Worthington (UWA Faculty of Engineering Mathematical Sciences) (+61 8) 6488 5079
Tags
Channels

Business and Industry — Science — Students — Teaching and Learning

Groups

Faculty of Engineering and Mathematical Sciences