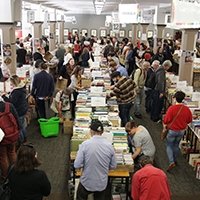 Wednesday, 31 July 2019
The University branch of Save the Children Australia will hold its annual book sale at The University of Western Australia's Winthrop Hall, below the UWA clock tower, from Friday 16 August to Wednesday 21 August.
This year's sale celebrates the centenary of Save The Children and remains the biggest second-hand book sale in Western Australia, with proceeds used to help support children from disadvantaged communities.
Thousands of donated books covering almost every topic imaginable will be available at discounted prices as well as sheet music, recorded music and DVDs.
The branch is helped by numerous volunteers who work throughout the year to prepare for the book sale including UWA students from the student branch of SCA, Uni Camp for Kids, UWA staff and families and other casual volunteers.
Anyone interested in volunteering at the book sale can email [email protected] .
For any enquiries phone Save the Children on 9267 3900.
Book sale opening hours
Winthrop Hall
Friday 16 August 3pm - 9pm
Saturday 17 August 8am - 5pm
Sunday 18 August 8am – 5pm
Monday 19 August 9am - 6pm
Tuesday 20 August 9am - 7pm
Wednesday 21 August 9am - 3pm

Hackett Hall Café
A special feature of this year's event is the 'The Flash Book Sale' on Saturday 17 August and Sunday 18 August 10am-4pm, where people can purchase some very 'flash' books that have been donated. These include rare, vintage collections.
EFTPOS is available for purchases.
Media references

Nicholas Smith (UWA Media Officer)                                                                   08 6488 1888
Tags
Channels

Media Statements — University News