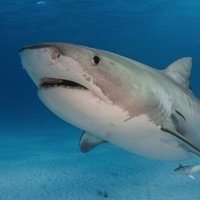 Friday, 26 July 2019
An international team of more than 150 scientists from 26 countries including Dr Ana Sequeira from The University of Western Australia Oceans Institute have found even the most remote parts of the ocean offer sharks little protection from industrialised fishing fleets.
The research, led by the University of Porto (Portugal) and Marine Biological Association Laboratory (UK) and published today in Nature (paper will appear on this link today) found even the fastest sharks and protected species had as much as 76 per cent of their space overlapped by fishing fleets each month.
Dr Ana Sequeira who was part of the leading team, said many major high seas fishing activities were centred on ecologically important shark hotspots which posed a concern, especially for protected species such as the great white and porbeagle sharks.
"There are serious conservation concerns because fishing in hotspots poses potential threats to the survival of some species," Dr Sequeira said.
The researchers collected data from nearly 1,700 sharks by tracking them using satellite tags to map their positions and reveal hotspots and then calculated how much the hotspots were overlapped by fishing vessels.
"We found both fishing vessels and sharks search for the same features in the ocean, such as water fronts and other highly productive areas, and so it is inevitable that large overlaps will occur," she said.
"This is true for all fishing vessels but also for longline fishing vessels alone, which include the type of fishing gear with which most sharks are caught.
"Longlines used by these vessels can be as long as 100 kilometres in length and deploy more than 1000 baited hooks a day."
David Sims, who led the study as part of the Global Shark Movement Project based at the Marine Biological Association Laboratory in Plymouth, UK said some of the shark hotspots may not be there in as little as a few years' time.
"If management measures are not put in place now to conserve the sharks, some of which are already endangered globally, these species face a dismal future," Professor Sims said.
The findings highlight the need for stricter industrial fishing quotas. The researchers hope the detailed maps of spark hotspots from the study will aid conservation efforts.
Media references
Dr Ana Sequeira (UWA Oceans Institute) 08 6488 2219/ 0430 072 253
Jess Reid (UWA Media and Public Relations Adviser) 08 6488 6876
Tags
Channels

Media Statements — University News

Groups

Oceans Institute