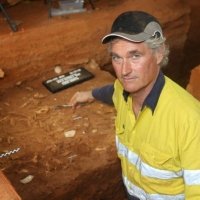 Wednesday, 24 July 2019
One of the defining attributes of modern humans is their ability to cross, navigate and systematically exploit maritime landscapes and resources. Some of the earliest indirect evidence for the maritime capabilities of people comes from the settling of the Wallacean Islands and Sahul (Australia, PNG, Tasmania).

Direct evidence includes early dated occupation sites in northern Australia, fishing technologies and marine dietary assemblages from Timor Leste and Borneo, and midden and shell artefacts from North West Australia dated from 50,000 years ago.

In this lecture Peter will profile research that he and his colleagues have carried out on the North West Shelf and the islands and interior of northern Australia.

Professor Peter Veth has carried out multi-decadal research on the archaeology of Aboriginal societies and their evolving land and seascapes. He has held academic positions at JCU, the ANU and UWA and been on the Executive Leadership team at AIATSIS. He has recently finished as the inaugural Chair of Kimberley Rock Art and is now the Director of the UWA Oceans Institute.

When: Tuesday, 13th August 2019

Doors open 7:00pm - Talk commences at 7:30pm

Cost: $5 donation (Free for Friends of the Library Members)

Venue: UWA - Reid Library Ground Floor, Hemsley Suite

RSVP:
Kathryn Maingard – [email protected] or 08 6488 2356
https://www.eventbrite.com.au/e/the-atlantis-of-the-north-unique-records-from-drowned-landscapes-off-northern-australia-by-peter-tickets-65229696779

Special Collections – special viewing for members
Special Collections will be open on Tuesday 13th August 6.30pm – 7.15pm for members to view a selection of maps of the Indian and Pacific oceans held in Special Collections before the start of the talk by Peter Veth.

Future Events
"Translating a classic French novel: the problems posed by Emile Zola's The Dream" by Dr Paul Gibbard, Lecturer European Languages and Studies is the topic for the 10th September talk.

October 8th is a special event, the presentation of the Clérambault 1710 edition from David Tunley to the Special Collections, with a performance of the work by the Conservatorium of Music Irwin Street Collective.  The venue will be the Eileen Joyce Studio Conservatorium of Music.

Our final speaker for the year is Jill Benn, University Librarian and her presentation is "Library Place for Learning Space: Reflections in the Changing Nature of the Academic Library".  Drinks and nibbles will be provided by the Friends of the Library after the 12th November talk.
Media references
University Library +61 8 6488 7425
Tags
Groups

University Library