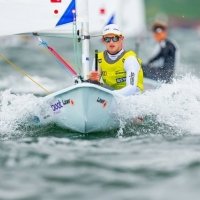 Tuesday, 23 July 2019
UWA student athlete Zac Littlewood was part of a dramatic final race at the Hempel Youth Sailing World Championships.
As the Championships came to a close in Gdynia, Poland, home talent Tytus Butowski and Littlewood were locked in a battle for gold.
Ahead of the final Boy's Laser Radial race, the two sailors were split by one point with a strong advantage.
Littlewood and Butowski were in a fight for gold, but got stuck in the middle of the fleet, opening the door for others to steal gold.
In an expected twist of fate, it was Turkey's Yigit Yalcin Citak who capitalised on the opportunity to claim the gold.
With Littlewood and Butowski locked on 63 points at the end of the race, the UWA student was awarded second place having won two races across the nine race series.
Littlewood's silver is a step up from his attempts last year, where he was awarded bronze.
The 2019 Hempel Youth Sailing World Championships draws to a close with the awarding of the perpetual trophies at the closing ceremony.
The next edition of the event will take place in Salvador, Brazil in December 2020.
Media references
Louis Humberstone
UWA Sport Marketing, Communication and Events Coordintaor
6488 4309
Tags
Channels

Sport

Groups

UWA Sport