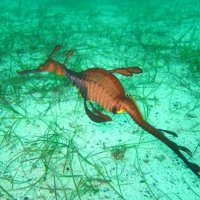 Tuesday, 23 July 2019
Marine and climate researchers in Western Australia are set to benefit from new funding provided by the Government of Western Australia.
The Australian Integrated Marine Observing System (IMOS) is one of the largest and most successful capabilities funded under the National Collaborative Research Infrastructure Strategy (NCRIS), and is receiving ongoing and increased funding under the May 2018 Federal Budget decision.
IMOS has had a strong footprint in Western Australia since inception, with a history of partnering with the state government to extend the capacity of IMOS in the region to better meet state priorities and IMOS Director Tim Moltmann welcomed the new funding of $1.098M.
"This will enable IMOS to re-establish a reference mooring site at Ningaloo Reef (led by Australian Institute of Marine Science) and intensify ocean glider activity in the Onslow region (led by the University of Western Australia)," Mr Moltmann said.
"Ningaloo Reef is the largest fringing coral reef on the west coast of any continent in the world, extending over 300 km. The reef is home to a range of marine life with the shallow lagoons and deeper offshore waters creating a diverse array of habitats.
"The data from the re-established Ningaloo reference mooring will close a gap, and will be readily taken up by significant research initiatives in the region such as Ningaloo Outlook and the Pilbara Marine Conservation Partnership."
Mr Moltmann said the Onslow region is of high scientific and economic importance.
"It is the beginning of the Leeuwin Current, where the seasonal Ningaloo Current and Leeuwin currents have strong influence on physical processes and ecology, an area of strong tidal fronts which influence the distribution of fish and turtle tracks, encompasses contrasting regions in terms of coral bleaching, and is an area of high offshore industry development," he said.
"UWA has developed a data assimilation model based on the Regional Ocean Modelling System (ROMS).
"The model includes the west coast of Australia from North West Cape to Cape Leeuwin, and there is an opportunity to extend its coverage to the Onslow region. Slocum glider data (from quarterly glider missions) is required to provide validation data for these models."
Media references
Liz McGrath (UWA Oceans Institute)      (+614) 33 795 509
Tags
Groups

Oceans Institute