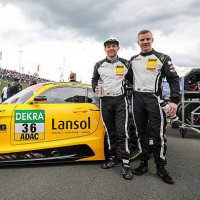 Tuesday, 23 July 2019
Aidan Read may only be 20 years young but nevertheless, leads a wonderful life as he commutes back and forth. You see, the ADAC GT Masters series newcomer lives in Perth, Western Australia, and has to travel halfway around the world for race weekends. He has to cover a staggering 14,000 kilometres to race the Mercedes-AMG GT3 prepared by German outfit, Schütz Motorsport. The fact that he has been so successful at European racetracks right from the start - he and partner, Marvin Dienst, have a lead of 8.5 points in the Pirelli Junior rankings - might come as a bit of a surprise. "We've been very satisfied with the season so far. Our goal is to consistently secure points. Personally, I would also really like to win the Junior class, for sure," says Aidan Read. As you can no doubt imagine, he regards the Junior podiums at Oschersleben and at Autodrom Most as highlights of his season to date.
This newbie got to feel what it's like to compete in the Super Sports Car League in his very first race. Starting from pole position in the Mercedes, Aidan Read led the field out and around the Motorsport Arena Oschersleben as the world's GT elite pushed from behind. Ultimately, he brought the car safely home in fifth place despite an almighty downpour and achieved the best result so far in his debut season. After six races, he now sums up his season so far:
"The ADAC GT Masters is the most competitive series I've ever contested, which is the reason why I want to be here, racing. My expectations have been met in full, as I've already had many important encounters. I've faced more challenges in the races so far than ever before. It took a while for me to adjust to the special complexity of the circuits and the different weather conditions, but I see all that as being very positive for my future development. I also like the atmosphere that surrounds motor racing in Europe. Driving here is really enjoyable," said the young racing driver, who on his racing CV, even already has an LMP2 victory in the Asian Le Mans Series to his name, which he secured when he was just starting out as a raw 17-year-old beginner. He's also had starts recently in the Blancpain GT Series Asia which is where he met current team boss, Christian Schütz, who was his race engineer at the time.
Aidan Read is very pleased to have made the switch to Europe: "Schütz Motorsport are a very experienced, very ambitious team who want to achieve good results in the GT Masters. I learned a lot from Christian and his way of working and get along well with all the team members, especially with my partner, Marvin Dienst. I think this is the right outfit for me and we aim to go on improving."
In return, Aidan Read has to take the rough with the smooth. His race weekend begins on Monday evening with a flight from Perth to Frankfurt via Doha. He is hard at work right up until the moment before he steps on the plane, as he is still studying Mechanical Engineering at university. His studies are very important to him alongside his racing career. As a budding engineer, he is not happy just knowing a little bit about driving: "I'm passionately interested in everything that has anything to do with automotive engineering and racing."
Once he's arrived in Germany, the many hours spent in the plane are quickly forgotten: "As soon as I get to the track, how I got there no longer matters. Performance is all that counts then." Training at home in Perth is mainly done in the simulator. Read is fit. He was a very successful gymnast before he discovered racing and competed at national level in Australia. It was not until his father brought an old go-kart home that things clicked for little Aidan, and his heart was lost to motorsport forever. Thanks to a special athletics scholarship at the University of Western Australia, he can make up for exams he's missed while racing.
But university is currently on vacation, and the last exam of the term has been sat, so Aidan Read can concentrate fully on the next ADAC GT Masters race at Zandvoort's dune circuit in the Netherlands (9th-11th August). By the way, he's really looking forward to his brief stopover in Germany prior to the races: "I just love German food! I'm a big fan of sausages, bread and beer!"
Media references
Originally published by ADAC Motorsport , 22 July 2019
Louis Humberstone
UWA Sport Marketing, Communication and Events Coordinator
6488 4309
Tags
Channels

Sport

Groups

UWA Sport