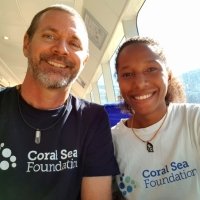 Friday, 19 July 2019
Antoni Gaudi said 'Nothing is art if it does not come from nature'.
The famous Spanish architect may well have approved of an art exhibition and talk to be hosted by the UWA Ocean's Institute and held at the Indian Ocean Marine Research Centre on 26 July.
Showcasing the works of renowned West Australian artist Larry Mitchell and underwater photographer Dr Andy Lewis, and aptly titled Too Precious to Lose , the exhibition will showcase the stunning beauty of the islands and reefs of Papua New Guinea and the Coral Sea.
Funds raised will be used to directly support the work of the Coral Sea Foundation in Melanesia, where local women are being trained in conservation theory, scuba diving and marine biology survey techniques.
"Our Sea Women of Melanesia program gives indigenous women the skills they need to setup marine reserves in their home islands, and being able to dive and survey reefs is fundamental to that process," Andy explains.
"Studies have shown that educating young women and girls in developing nations in areas like environmental management as well as a host of other things, means they are able to communicate these to their local communities.
"In Melanesia, it means they can then work together to identify zones suitable for marine protected areas in their own coral reefs."
Joining Andy and Larry at the event on 26 July will be one of the shining stars of the Sea Women of Melanesia Program, Naomi Longa, who grew up swimming in the Bismarck Sea with the incredible coral reefs of Kimbe Bay at her doorstep.
With a biology degree from UPNG in Port Moresby, Naomi completed her PADI Open Water Diving Course at the Conflict Island Conservation Initiative facility in the Louisiade Archipelago of PNG, and now has an internship with the Coral Sea Foundation.
"I am so looking forward to visiting Western Australia and to sharing some of my experiences and marine adventures with those attending the exhibition," Naomi says.
"Our aim is to raise awareness of the ecological and social value the Coral Sea and Eastern Coral Triangle, and to be proactive in its sustainable management.
"The region contains the last great reservoir of ultra-diverse coral reef in the world, yet most of it is remote and rarely visited, and is in urgent need of our assistance."
To register for Too Precious to Lose please click here.
Caption: Underwater photographer and CEO of the Coral Sea Foundation Dr Andy Lewis with Naomi Longa from the foundation's Sea Women of Melanesia Program.
Media references
Liz McGrath (UWA Oceans Institute)          0433 795 509
Tags
Channels

International — Science

Groups

Oceans Institute