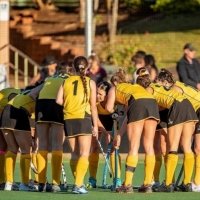 Thursday, 18 July 2019
The U21 Australian Hockey Championships, held in Lismore, NSW, has seen Western Australia claim bronze in both the men's and women's competitions.
Both teams featured student athletes, with Alistair Murray and Chris Starkie appearing for the men's team, while Phillipa Morgan featured for the women's team.
The two Western Australia teams put on a strong performance throughout, however both were bested by Victorian sides in the semi-finals.
Phillipa and the women's team went lost the semi-final 2-1 after leading 1-0 heading in to the final quarter.
A tight third place playoff against South Australia ended with a 1-0 victory for WA, securing their bronze medal.
Meanwhile, the men's team also lost their semi-final to Victoria, going down in a close 5-4 thriller.
The men's victory in the third place play off was resounding, as their bested South Australia 4-0.
This is not the first time that WA have won bronze at the tournament, with the men's team securing the same place in last year's tournament.
The women's team result is a significant improvement on last year's campaign, where they finished seventh.
Media references
Louis Humberstone
UWA Sport Marketing, Communication and Events Coordinator
6488 4309
Tags
Channels

Sport

Groups

UWA Sport