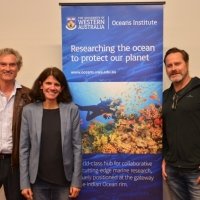 Friday, 12 July 2019
Fifty UWA Oceans Institute members have participated in AMSA's landmark Marine Science for a Blue Economy conference in Fremantle this week.
The Australian Marine Sciences Association ( AMSA ) is Australia's peak professional marine science body with nearly 1000 members from around Australia.
Director of the OI Professor Peter Veth said the annual conference showcased cutting edge research from leaders and students across the field of marine science, also offering important opportunities for collaboration.
WA brings in a crowd
AMSA President, Dr Penny Berents said this year's theme focussed on science that will contribute to safeguarding the health of our oceans and marine life while also sustaining the economic and societal benefits that accompany a growing nation.
"The symposia topics covered a wide range of disciplines including the critical blue economy challenges outlined in Australia's National Marine Science Plan," said Dr Berents, a Senior Fellow at the Australian Museum and an Honorary Life Member of AMSA.
"We're hoping that both the theme and the conference itself will help foster collaborative partnerships between industry and marine science researchers well into the future.
"And I have to say that this year's conference and the 2011 event held in Perth have been two of the biggest yet – the Western Australians know how to put these together and bring people in!"
Leading by plastic free example
As conference organisers, AMSA took on the challenge to 'walk the plastic free walk' rather just talk the talk, catering for 570 marine science professionals, academics and students by limiting waste and using no plastics for any part of the event.
"As you can imagine, not easily done and we're proud of the result,' Professor Veth said. "There were lots of learnings and some of the team have shared these in a piece in The Conversation .
"This was published on the same day that we hosted the annual AMSA public lecture featuring the inspiring founder and director of the for-purpose Plastic Free Foundation and UWA alumna, Rebecca Prince-Ruiz.
"Rebecca has more than 25 years' experience in the world of environmental and waste management, community engagement, and sustainability behaviour change.
"It was amazing to hear how her Plastic Free July challenge, which started as a grassroots campaign with a handful of participants in WA in 2011 has now grown to millions of people across 170 countries taking up the challenge to refuse single-use plastic every year.
"What a testament to her unwavering commitment to seeing a world without plastic waste."
The free public talk was attended by another UWA alumnus, Greens Senator Peter Whish-Wilson, who said with public consciousness around the issue growing, it was time for serious action.
"We urgently need to reduce the amount of plastic waste ending up in landfill, in stockpiles, and in our oceans," said the Greens Waste & Recycling and Healthy Oceans spokesperson.
Great Southern Marine Research Facility open
The OI's Albany based colleagues were well represented with Dr Wiebke Ebeling announcing the Great Southern Marine Research Facility, located in the old Visitor Centre building on Proudlove Parade in Albany, open for business.
"This new facility will help put WA at the forefront of offshore renewable energy research and technology and understanding of wave, tidal and offshore wind energy," Dr Ebeling said.
"As well as the office, there's a public interaction foyer, storage space and a workshop for electrical and mechanical work."
Joint management of marine and terrestrial reserves
The OI sponsored session 'Collaborations between traditional owners and scientists: Synergistic approaches' was also popular.
"Examples of collaborative marine survey, recording, mapping and planning were given from projects located in the tropics, arid north west through to the waters off South Australia," Professor Veth said.
"The Kimberley Indigenous Saltwater Science Project was profiled, as were seascape mapping projects from Groote Eylandt and 80 Mile Beach and an AIMS frameworks for acknowledging Indigenous research engagement.
"The session was expertly led by Cass Hunter from CSIRO and Dean Williams from the Kimberley ISWAG.
"A follow-up NESP Biodiversity-hosted two day workshop on Indigenous Engagement, which was heavily subscribed to, was described later by Aboriginal Elder Doc Reynolds as 'history-making'."
The next AMSA Conference (2020) will be held in New South Wales.
Caption: Director of the UWA Oceans Institute Professor Peter Veth with Plastic Free Foundation founder Rebecca Prince-Ruiz and Greens Senator Peter Whish-Wilson.
Photo Credit: Honorary Research Associate Angela Rossen
Media references
Robert Pemberton (UWA Oceans Institute)                                                            ( +61) 8 6488 8014
Tags
Channels

International — Science

Groups

Oceans Institute