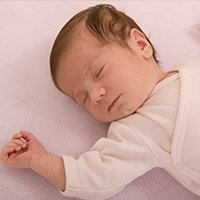 Friday, 12 July 2019
Researchers at The University of Western Australia and King Edward Memorial Hospital have teamed up with Australian molecular diagnostics company SpeeDx to commercialise a new low-cost test to identify women at risk of premature birth. Based on research and results of clinical trials they predict the test could reduce premature birth by up to 30 per cent.
UWA Senior Research Fellow and microbiologist, Dr Matthew Payne from the Division of Obstetrics and Gynaecology said preterm birth was the single biggest cause of death and disability in children under five years of age in the developed world.
"Every year, around 15 million babies worldwide and 25,000 in Australia are born premature," Dr Payne said.
"Bacterial infections of the womb are a major cause of premature birth but until now we haven't been able to accurately identify women at risk, so antibiotic treatment hasn't been particularly successful or widely adopted."
"The new test will allow us to identify women at risk, early on in their pregnancy, so that they can be treated with antibiotics and probiotics to prevent premature birth."
Dr Samantha South from UWA's Research Commercialisation Office, who has led the commercialisation efforts, said bringing the test into hospitals and making it accessible for medical practitioners would have immense benefits.
"It's exciting to be working with SpeeDx to commercialise this test which will benefit pregnant women and their babies, not just in Australia but around the world," Dr South said.
SpeeDx CEO Colin Denver said SpeeDx was committed to the commercial development of clinically relevant tests that support better patient care.
"The test developed through this collaboration is yet another example of where well-placed diagnostics can positively impact patient outcomes as well as provide cost savings to the greater health network," Mr Denver said.
The researchers aim to recruit more than 6000 Australian women to trial the test, part-funded by a $1.7 million grant from the Federal Government's National Health and Medical Research Council. The research comprises part of Women and Infants Research Foundation's Preterm Birth Prevention Initiative: The Whole Nine Months
It will be assessed over the next four years through a randomised clinical trial. If successful, routine screening and treatment in early pregnancy can be used to lower the rates of preterm birth, providing a healthier start to many young lives.
Media references
Jess Reid (UWA Media and PR Advisor) 08 6488 6876


Tags
Channels

Media Statements — Research — Science — University News