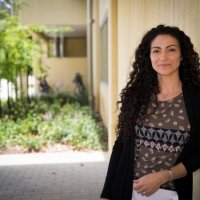 Wednesday, 10 July 2019
Dr Ana Sequeira had always dreamed of working in marine science but it was completing an internship at Lisbon's Oceanarium in her home country Portugal that cemented her ambition.
"My undergraduate degree was in chemistry and biotechnology but I was always fascinated by the movement of marine megafauna – whales, sharks, seals and turtles – in the water," she says.
"Working at the aquarium, one of the biggest in the world, was fascinating and provided the opportunity to work closed with many marine species."
After completing a Masters on modelling the marine environment at the University of Liege and a PhD at the University of Adelaide on ecology of whale sharks, Ana took up a role as a Research Associate at UWA's Oceans Institute through an Indian Ocean Marine Research Centre Fellowship.
There the environmental data scientist is now leading the unique and cutting-edge Marine Megafauna Movement Analytical Program ( mmmap.wordpress.com ).
We checked in with Ana to find out more.
Q: Can you explain what the program is all about?
A: "I'm glad you asked! Marine megafauna such as sharks, whales and turtles are impacted by human activities like coastal development, pollution, fishing and shipping. However, the extent of such impacts is unknown, mostly because our understanding of these animal's movements is limited.
"The Marine Megafauna Movement Analytical Program (MMMAP) aims to significantly improve our understanding of marine megafauna movement at a global scale to assist the conservation and management of these ecologically important, charismatic and threatened marine species."
Q: How are you doing this?
A: "Tracking data have led to evidence-based conservation of marine megafauna, but a disconnect remains between the many tens of thousands of individual animals that have been tracked and the data used in conservation and management actions.
"We are using existing and emerging technologies, for example, big data and complex systems approaches, to deliver diagnostics on existing risks to marine megafauna.
"With the technological developments expected over the next decade, the potential to survey marine animals and human activities in even more detail and at global scales will allow for the developments of near real-time diagnostics, which will be crucial to address increasing dynamic risks."
Q: How important is this?
A: "It's essential if we are to sustainably use marine resources while conserving the biodiversity and health of our oceans. All sorts of species are coming under increasing pressures from marine industrial developments and environmental change.
"Many species are threatened and with a bleak outlook for recovery due to little or no management in some cases, and a lack of international agreements on conservation of high seas biodiversity.
"My research aims to significantly improve our understanding of marine megafauna movement at a global scale to ultimately assist the conservation and management of economically important, charismatic and threatened highly migratory marine species."
Q: It seems your work is giving a whole new meaning to the word collaboration?
A:  "For the type of work that I do and for us to make a difference at a global scale, a lot of data are needed – we're crunching very large data sets as it's the only way we can start to understand large patterns. We are engaged with top, high profile researchers around the world – in places including the UK, US, Saudi Arabia, Portugal – who contribute with their knowledge and data, so my research really is community-based research."
Q: You are looking at using ocean observing systems to help understand the movement patterns of highly migratory marine megafauna – can you explain more about this?
A: "Marine megafauna hold huge potential to assist us in the task of sampling the oceans, for example, seals have been sampling data under the ice in Antarctic regions that we cannot reach. These data have been extremely useful to improve ocean circulation models and are a great example of the high value of tracking data from marine megafauna."
Q: And outside of work, what does a marine scientist do?
A: "It's pretty busy a lot of the time, with work. But I love to dive and I have a greyhound I adopted who also keeps me busy and martial arts helps me keep my sanity! You can learn more about the southern Chinese martial art that I practice at wingchunpath.com"
* Hear more from Dr Ana Sequeira at her free 'Global Perspective on Marine Megafauna Movement' talk at City of Perth Library on Thursday, 5 September from 6.30pm. Click here for more details and to book.
Media references
Dr Ana Sequeira (UWA Oceans Institute)                            ( +61) 8 6488 2219
Tags
Channels

International — Science

Groups

Oceans Institute