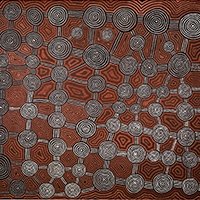 Tuesday, 9 July 2019
A new exhibition at The University of Western Australia's Berndt Museum of Anthropology will showcase a significant collection of paintings from the 1970s to 1980s by artists from the Central Desert region.
Running between Saturday 13 July and Saturday 7 December, Out of the Boxes and into the Desert exhibition will feature a selection of paintings from the Berndt Museum that have been given renewed focus after a recent storage project. Many of the paintings in the exhibition will be on display to the public for the first time.
The exhibition features work by a number of significant artists within Aboriginal art history, including Mick Namarari Tjapaltjarri, Anatjari No. 1 Tjampitjinpa, Tim Leura Tjapaltjarri and Yala Yala Gibbs Tjungurrayi. It also showcases the work of lesser-known women artists through the work Walya-Walya Jukurrpa (Watersnake Dreaming), 1986, by artists Bessie Nakamarra Sims, Raelene Napurrulu Kennedy and Lorna Napurrulu Fencer.
Curated by UWA Associate Director of the Berndt Museum Dr Vanessa Russ Out of the Boxes and into the Desert has works that form part of the history of the Berndt Museum.
Founded in 1976 by anthropologists Ronald and Catherine Berndt, the Museum's collection relates to the network of relationships and the 1973 establishment of the Aboriginal Arts Board of the Australia Council.
Dr Russ said the exhibition told many different stories through the paintings.
"Each of the works in this exhibition has an important story to tell that was captured at the time it was made." Dr Russ said.
"These works make us to think about the size of the artist's country and the distance between places where reserves corralled Desert people and stations allowed them to revisit important sites through stock work."
Central to the exhibition is the engagement with communities and families in the Central Desert. Partnering with Dr Jason Gibson from Deakin University, the Berndt Museum connects with Central Desert communities, sharing information through its inspiring works.
On Friday 13 September between 1pm and 2pm, Dr Russ will lead a tour explaining the paintings and the exhibition in more detail. The event is free and open to the public.
Presented by the Berndt Museum of Anthropology Out of the Boxes and Into the Desert at theLawrence Wilson Art Gallery at UWA will be open Tuesdays to Saturdays, 11am to 5pm, except for public holidays. Admission is free.
Image used in this news story credit: Yala Yala Gibbs Tjungurrayi (1924-1998), Pintupi language. Possum Dreaming at Tutanya 1988. Acrylic paint on linen canvas. Berndt Museum of Anthropology Collection [1989/0029] © estate of the artist licensed by Aboriginal Artists Agency Ltd.
Media references
Megan Hyde (UWA Cultural Precinct) 08 6488 7477
Jess Reid (UWA Media and PR Advisor) 08 6488 6876
Tags
Channels

Arts and Culture — Business and Industry — Events — Media Statements — University News

Groups

Aspire UWA — Faculty of Arts, Business, Law and Education