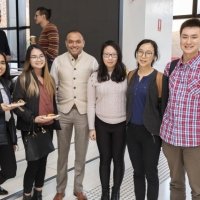 Friday, 5 July 2019
The UWA Dental School Research Day was held on Friday 28 June at the Harry Perkins Institute for Medical Research to showcase the exciting research being undertaken within the School. With 170 attendees, the day was extremely well attended, and demonstrates the increased interest in our research activities.
We were lucky to have two fantastic guest speakers contributing to the program this year, Associate Professor Nathan Pavlos and Professor Ajmal Mian. A/Prof Pavlos started our program for the day with his talk 'Deconstructing the Osteoclast to Identify New Therapeutic Targets for Bone Lytic Diseases' which gave us an insight into the complex and intricate molecular composition of the osteoclast cell. He went on to describe the identification of a number of molecular targets that could assist in the design of effective anti-osteoporotic drugs that lack the side effects of current options. Prof. Mian took us through the process of designing and validating a large scale 3D facial recognition network and outlined a number of applications for this technology. Of particular interest was the ability to create patient specific morphs to facial norms in order to guide facial reconstructive surgery.
Professor Camile Farah, A/Prof Johan Aps, A/Prof Leticia Algarves Miranda and A/Prof Robert Anthonappa then presented an overview of the research occurring in their respective research programs. These included studies using molecular profiling to identify distinct signatures for pre-malignant oral lesions, improving the quality of radiographs, investigating the role of local and systemic inflammation in periodontal disease and interventional studies to improve the oral health of vulnerable children.
The presentations from the School's Doctor of Dental Medicine (DMD) and Doctor of Clinical Dentistry (DCD) students, was one of the highlights of the day. A total of 22 DMD groups, 7 DCD and 2 PhD students presented their research in short six minute talks. These sessions emphasised the breadth of research occurring in the School, with representatives from all 7 research programs: Biomaterials and Nanodentistry (Dr Amr Fawzy), Craniofacial Biology (Dr Mithran Goonewardene), Oral Imaging (A/Prof Johan Aps), Endodontics (W Prof. Paul Abbott), Periodontics and Implantology (A/Prof Leticia Miranda), Oral Oncology (Prof Camile Farah) and Paediatric Oral Health (A/Prof Robert Anthonappa). The student presentations were to a high standard and generated a wealth of interesting questions.
Students were competing for travel grants to represent the School at the 2019 International Association for Dental Research (IADR) ANZ Division conference in Brisbane. Our judging panel consisted of Michelle Wright from Colgate Oral Care, A/Prof Miranda and Dr Omar Kujan and they faced the challenging task of selecting our entrants for the Colgate competition. As part of the Head of School's strategic investment in student research activities, an additional 8 travel awards were funded by the School to allow DMD and DCD students to present their work at the conference. A full list of the awardees can be found below, and we wish to congratulate both the winners and all the students who presented on the day.
Colgate Competition Winners and Runners-Up
Sambavi Kugananthan & Tina Nguyen, supervised by Dr Jilen Patel and A/Prof Anthonappa
Dr Lalima Tiwari, supervised by Prof Farah and Dr Kujan
Samuel Deng, Cheryl Fu & Irena Koneski, supervised by Dr Fawzy
Dr Anna Buckeridge, supervised by A/Prof Anthonappa
School Travel Awardees
Dr Vanessa Cho, supervised by A/Prof Anthonappa and Professor Nigel King
Eleanor Knight & Lyndon Pericles Abbott, supervised by Dr Patel and A/Prof Anthonappa
Zena Ibrahim, supervised by A/Prof Aps & A/Prof Vladimir Hotinski
Yasmita Haripersad, Emrik Graff & Lance Giudice, supervised by A/Prof Frydrych, Dr Kujan and Prof Farah
Emily Grant & Ashlee Bence, supervised by A/Prof Anthonappa and Dr Patel
Bron Win Leong, Jun Loke Marcus Leong & Zacharij Lawrence, supervised by Dr Victor Matsubara & A/Prof Alessandro Quaranta
Agnes Tan & Joanne Shi Yun Tan, supervised by A/Prof Anthonappa and Dr Patel
Dr Sarah Snell & Daniel Bontempo, supervised by A/Prof Anthonappa and Dr Celine
The day would not have been possible without the support of our major sponsors Henry Schein Halas and Colgate Oral Care, and we would like to sincerely thank them. We would also like to thank our additional sponsors Amalgadent Dental Supplies, Kerr Australia and Ivoclar Vivadent. As always the trade displays were extremely popular and provided a great opportunity for our sponsors to showcase their products.
The feedback from staff, students, guests and industry has been extremely positive and it is encouraging to see the expansion in research capabilities within the School since last year's Research Day. We hope to see you for Research Day 2020!
Tags
Groups

Faculty of Health and Medical Sciences