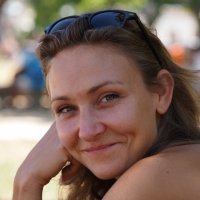 Friday, 5 July 2019
Johanna Zimmerhackel has always had a passion for sharks but as a marine biologist, she probably never imagined she'd delve quite so deeply into economics.
That multi-discipline approach was exactly what was required when the UWA Oceans Institute(OI) member and PhD researcher with the UWA School of Agriculture and Environment and the ARC Centre of Excellence for Environmental Decisions began investigating the socio-economic value of sharks for dive tourism in the Maldives.
"Shark diving provides important economic benefits to the Maldives," explained the German-born scientist, who has a Bachelor's degree in Biology and a Master of Science in Marine Ecosystems and Fisheries Science from the University of Hamburg.
"For my PhD, I examined the link between the actions around shark conservation and the economic returns from diving tourism." The project was also supported by the Australian Institute of Marine Science, Global FinPrint Project, and PEW Charitable Trust.
"The results showed that shark diving in the Maldives generates substantial revenues of US$51.4 million," Ms Zimmerhackel said. "By increasing shark populations, dive-trip demand in the Maldives could grow by to 15 per cent, bringing an additional economic benefit of around US$6 million for the diving-related tourist industry each year."
Letting shark populations decline had a major impact
"But when we looked at scenarios where shark populations declined via either illegal fishing or lack of conservation on the part of dive operators, dive trip demand could decrease by up to 56 per cent, causing huge economic losses of more than US$24 million annually.
"The results highlighted the dependence of the shark-diving industry on the creation and enforcement of appropriate management regimes for shark conservation."
Ms Zimmerhackel carried out a similar study in Borneo for the Australian Institute of Marine Science, with one major difference.
"The Maldives are already a shark sanctuary so we were looking at the economic impacts from failing or successful long-term management of the sanctuary. In Semporna, Malaysia's most popular diving destination, creating a shark sanctuary was something that is still under discussion," she said.
"The study showed that in 2018, shark-diving tourism provided direct revenues in excess of US$16.6 million to the Semporna region. These economic benefits had a flow-on effect, generating more than US$3.6 million in direct taxes to the government and US$2.8 million in salaries to the community.
"A willingness-to-pay survey estimated that a dive tourism fee could raise US$2.4 million which could serve as a financing mechanism for enforcement and management of a potential shark sanctuary to conserve shark populations.
The findings suggested shark diving is an important contributor to the economy of the Semporna region and could be used to assist financial resourcing for management and conservation strategies, outcomes which were presented to senior government ministers by Ms Zimmerhackel at the 'Sabah Sharks and Rays Forum' in Kota Kinabalu, Malaysia.
UWA's Grand Challenges
For Director of the UWA Oceans Institute, Professor Peter Veth , the bringing together of researchers and students across a range of disciplines to address oceans-related issues is at the heart of the OI's success and mandate.
"Our oceans and the marine environment is one of the pioneering grand challenges nominated by UWA as a focus for The University's brightest minds – staff and students who can use their teaching and research capabilities to solve some of the most perplexing problems faced in today's world," he said.
"Desalination, wave energy, algae biofuel research, ocean nourishment, and aquaculture are just some of the ocean-based solutions we are involved in to safely and sustainably provide critical resources for human development, water, food, energy and bio-resources into the future."
Media references
Dr Johanna Zimmerhackel (Oceans Institute) (+61) 4 2274 2909
Tags
Channels

Science

Groups

Oceans Institute