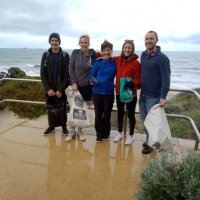 Thursday, 4 July 2019
A UWA Oceans Institute team got a little more than they bargained for during a clean-up on Cottesloe Beach to kick off Plastic Free July last weekend.
Led by OI Director Professor Peter Veth , the committed squad had braved heavy rain to clear rubbish from one of Perth's most iconic beaches when they learned a truck in a neighbouring suburb had spilled a load of polystyrene balls.
"We received a call from one of our marine ecologists telling us about the accident in North Fremantle," OI Business Support Manager Robert Pemberton said.
"Hundreds of thousands of tiny, white, non-biodegradable balls were washing into storm drains, all bound for the ocean.
"The miniature balls are mistaken for food and can block the digestive tracks of marine animals."
The UWA team headed for Freo where they joined council workers and local residents in clearing the drains and disposing of the balls.
"The weather conditions weren't exactly pleasant but it was great to be able to pitch in and help and the council were quickly on the scene to organise things," Robert explained.
"It was a strange coincidence that this spill occurred while we were cleaning the beach. It shows that it is just as important to stop plastic reaching our oceans as it is to clean it up once it arrives."
Marine plastics research is an area of focus for the Oceans Institute in 2019, with the Institute sponsoring a free public talk by UWA alumna and the founder of Plastic Free July, Rebecca Prince-Ruiz , in Fremantle on 10 July.
"The world produces 300 million tonnes of plastic each year but only 10 per cent is recycled – the rest ending up in landfill or in our waterways," Robert said.
"It's estimated that plastic represents 80 per cent of all marine debris. Research continues to demonstrate the incredible impact on wildlife and coastal communities this debris has, often many miles from where it was first discarded.
"As Rebecca says, cleaning up plastic waste and improving recycling systems are important but 'turning off the tap' to reduce the problem at the source is critical. If it's something people are interested in, I'd urge them to come along on the 10th and join in the discussion."
Caption - Damp but happy, some of the clean-up team.
Media references
Robert Pemberton (UWA Oceans Institute)                                 ( 61) 8 6488 8014
Tags
Channels

International — Science

Groups

Oceans Institute