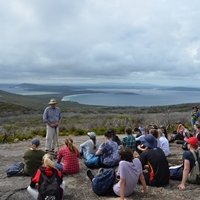 Wednesday, 3 July 2019
UWA Albany's field units, honours and PhD program
Because of the strong spiritual connections to country, family and knowledge held by Indigenous people, teaching about their knowledge systems and cultures is best done with them on country.
UWA's major regional centre in Albany is well placed to deliver undergraduate, honours and postgraduate programs on cross-cultural topics. Albany has a number of Indigenous families with elders keen to collaborate in teaching.
The first collaborative unit framed around a field-intensive week in Albany was INDG1140 Knowing Country: The Dreaming and Darwin, established in 2011 by Dr Barbara Cook at Albany and Clint Bracknell from the School of Indigenous Studies (SIS). Based on a model of students keeping a natural history field diary, first-year undergraduates across faculties compared Indigenous and Western science knowledge systems.

Groups spent time with a Minang elder paired up with a UWA biologist at Quaranup field camp on Vancouver Peninsula, the Oyster Harbour fishtraps, and the Albany Museum and Albany Regional Herbarium. Yarning with elders about Stolen Generations and learning about the Minang Noongar diplomat Mokare during early colonial times were other highlights. This unit morphed into INDG2700, which Noongar Professor Len Collard from SIS now leads, still with a field camp based in Albany.

This approach has been built upon subsequently by UWA Albany's research-active academics. UWA Professor Stephen Hopper has ensured that some local Indigenous content is incorporated in field courses in units co-coordinated with Dr Barbara Cook, including ENVT1103 Natural History and BIOL3360 Saving Endangered Species. To ensure senior undergraduates are given an opportunity for advanced level cross-cultural studies, the team now delivers ENVT3310 Biodiversity on Country, co-taught by elders Lynette Knapp and Eugene Eades, with significant input from PhD student Alison Lullfitz.

Honours projects in ethnobiology are now offered, with the first completed by UWA Albany student Sheila Murray in 2015 on the topic of 'Purpose-built lizard traps on Torndirrup Peninsula: their use by reptiles and their conservation'. Supervisors were Minang elder Harley Coyne, Professor Hopper, zoologist Professor Dale Roberts, and archaeologist Dr Joe Dortch. Alison Lullfitz has recently submitted her PhD thesis for examination on 'Vegetation Responses to Noongar Land Management Practices in Old and Young Landscapes of South Western Australia'. Her co-supervisors were Minang elder Carol Pettersen, Professor Hopper, Dr Dortch and Applied Archaeology's David Guilfoyle.

The UWA Albany campus, together with SIS, has created a unique opportunity to walk together with Indigenous elders who are keen to collaborate in the development of our understanding of cross- cultural knowledge systems and topics.
Tags
Groups

Education Quarterly