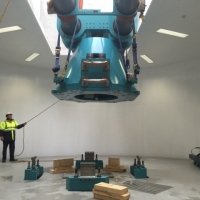 Tuesday, 2 July 2019
The University of Western Australia has a continual roll call of awards, scholarships and prizes presented to staff and students.
To recognise these achievements, an article is published on the UWA news page on the website and in UWA Forward on the first week of every month. If you know of great awards or achievements across the University please email [email protected]
Name: Professor John Newnham, John Inverarity and Dr Katrina Calvert
Achievement: UWA was successful in the Australian Medical Association Awards. Professor John Newnham was awarded the AMA (WA) Hippocrates Awards which recognises long-lasting contributions to health and medicine. UWA graduate John Inverarity received the President's Award which is presented to a non-medical person for their contribution to health and the Junior Doctor of the Year was presented to graduate Dr Katrina Calvert.
Name: UWA scientists from the Faculty of Health and Medical Sciences and Faculty of Engineering and Mathematical Sciences
Achievement: Three UWA projects have been selected as finalists in the 2019 WA Innovator of the Year program. Projects 'Converting Broome nacre to synthetic bone material for human implant' (Faculty of Health and Medical Sciences) and 'Weed Chipper: Site specific weed control for large-scale cropping' (Faculty of Engineering and Mathematical Sciences) are finalists in the Rio Tinto Emerging Innovation Category. The 'CryoSolid Sensor: Rapid Detection of Solid Freeze-out in LNG Production' project (Faculty of Engineering and Mathematical Sciences) is a finalist in both the Woodside Oil & Gas Platinum Award category and the Business News "Great for the State" Platinum Award category. UWA is the only university represented in the finals. Winners will be announced at an awards ceremony to be held on 6 November.
Name: Dr Andrew Guzzomi, UWA Research Fellow
Achievement: Dr Guzzomi's agricultural invention 'The weed chipper' is a semi-finalist in the Emerging Innovation category of the 2019 WA Innovator of the Year program. The weed chipper uses sensory technology to remove weeds from the ground and is one of eight semi-finalists selected by the Department of Jobs, Tourism, Science and Innovation.
Name: Students Audrey Kim, Doctor of Medicine, Salina Hisham, Forensic Anthropology PhD candidate, and Shafira Jumantara, Master of Strategic Communications
Achievement: Audrey Kim has been awarded the 2019 WA International Tertiary Student of the Year  by the Council for International Students of Western Australia (CISWA). Students Salina Hisham and Shafira Jumantara were also announced runner ups for their contributions. Audrey is an aspiring breast surgeon and Vice President of the UWA Surgical Society (UWASS).  The CISWA Awards acknowledge exceptional programs and individuals for their outstanding contribution to international education.
Name: Professor Barry Lehane, Faculty of Engineering and Mathematical Science
Achievement: Professor Lehane has been awarded the 2019 Geotechnical Research Medal for his paper, published in the Géotechique Journal. The medal recognises work of exceptional quality and benefit to the civil engineering, construction and materials science community.
Name: Faculty of Engineering and Mathematical Science
Achievement: The UWA centrifuge has been featured in an Engineers Australia's publication 'Wonders Never Cease' which showcases 100 Australian engineering achievements over the last century. The UWA centrifuge is the largest in the southern hemisphere helping scientists replicate stresses in seabed sediments and is one of two university achievements included in the publication.
Name: Elise Reitze-Swensen and Stephen de Filippo
Achievement: Ms Reitze-Swensen and Mr de Filippo, members of the Conservatorium of Music have each taken out WA Music (WAM) Song of the Year awards for their original songs, 'They Need Us', produced by Ms Reitze-Swensen and Rosie Taylor, and 'A moment like this' produced by Stephen de Filippo.
Congratulations UWA staff and students.
Media references
Jess Reid (UWA Media and PR Adviser) 08 6488 6876
Tags
Channels

Media Statements — University News