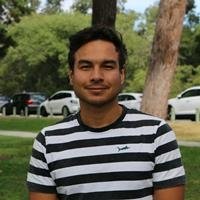 Tuesday, 2 July 2019
About Tyson McEwan
Tyson McEwan is originally from Port Hedland but grew up in Geraldton. His mob are the Ngarluma and Bardi people.
Tyson is currently in his third year studying a Bachelor of Arts, majoring in Law and Society. He's always wanted to study law with the ultimate goal of becoming a lawyer. Being so close to achieving that goal is an exciting moment for him and his family. He is graduating at the end of this semester and will continue his studies in the Juris Doctor.

Tyson was closely involved with the Western Australian Students Aboriginal Corporation (WASAC) which is the Indigenous student body on campus.
Making the most out of university experience

"I've had a fantastic time volunteering with WASAC and working on some of the key social and cultural awareness activities and events for Indigenous students. During my time as the WASAC chairperson, I was involved in discussions around renaming the Reid Library café to Quobba Gnarning (meaning good food).

Being involved in the WASAC has also brought me closer to networks within Perth and around Australia. Each year it sends a team – the Western Waagyls – to compete in the Indigenous Nationals (formally the National Indigenous Tertiary Education Student Games [NITESG]). I also participated in the recent Indigenous games which were held here at UWA last month.

Another great highlight of my studies was being chosen to attend the World Indigenous Peoples Conference on Education in Toronto, Canada. Canada. Earlier this year, I played in a curtain-raiser match at the AFL's 'Dreamtime at the 'G'. It was an unreal experience to perform an Indigenous War Cry in front of thousands of people."

Being involved in the Study Abroad program
"Since the beginning of my university journey, I have met a lot of people who regretted not doing an exchange program. Therefore, I did not want to burden myself with that regret. That is why I decided to take up an opportunity to go to Pacific University in Portland, Oregon, last semester to experience the boxer (Mascot) community. It was a huge step for me as a country boy going across to the other side of the world, away from my family and traditional country. My study abroad program exposed me to new challenges that I had to overcome with my new American friends while persevering through cultural and social differences.
These experiences motivate me to continue to study hard and keep pushing towards my goals. I'm always reminding myself that I am here to represent my family and community during these events and I proudly share my experience with other young people and prospective students to inspire them to pursue their life ambitions.

Collectively, my UWA experience has placed me in a strong position for my future ambitions of becoming a lawyer. It has equipped me with the practical skills and diverse networks which I feel play a crucial part in my career trajectory. I have definitely gotten more than a degree while at UWA."

Sense of Direction
"After graduating high school I found it quite difficult to explore what opportunities were on offer in the community. I thought to myself, if I am experiencing this issue then my peers would be too. That is how Sense of Direction was born.

The aim of Sense of Direction is to address four key areas: finance, travel, health and wellbeing, and employment. With the support of the UWA Careers Centre, I was able to host an exhibition, which had an attendance of over 500 students and 27 businesses from various sectors and industries.

Sense of Direction was developed by youth for youth.
Tags
Groups

Education Quarterly