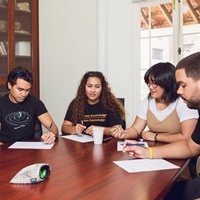 Tuesday, 2 July 2019
Since 2017, the UWA Indigenous Strategy has aimed to consolidate and strengthen UWA's focus and plans for the continued development of Indigenous higher education across all areas of the University.
The Indigenous Strategy is also designed to ensure we meet the requirements of the Department of Prime Minister and Cabinet's Indigenous Student Success Program (ISSP) and Universities Australia's Indigenous Strategy 2017–2020 (UAIS).

The Indigenous Student Success Program mandates an Indigenous Strategy which prioritises Indigenous students' access, retention and success, but also includes Indigenous employment targets and an Indigenous governance mechanism. The UAIS also has a strong focus on University commitments to Indigenous access, retention and completion rates as well as a broader focus on Indigenous curriculum, Indigenous research, staff cultural competency, embedding Indigenous education in core policies, and building effective community partnerships.

In UWA 2030 and UWA's Strategic Plan 2020-25, the University acknowledges it is situated on Noongar land and commits to 'recognise and value Indigenous peoples' rights, knowledge, culture and values'. This commitment is made explicit by Indigenous strategies visible across all areas of the Strategic Plan 2020-25. It is ambitious and positions us well to accelerate growth and achieve our Indigenous strategies.
We are continuing to refine UWA's Indigenous Strategy to ensure alignment with UWA 2030 and UWA's Strategic Plan 2020-25. Our Indigenous strategies, achievement of goals and outcomes are characterised by a whole of University approach, underpinned by Indigenous leadership and governance.

The UWA Indigenous Strategy addresses key focus areas of: teaching and learning, research, policy, workforce planning, governance, and community and global engagement. Priorities for Indigenous education are to increase Indigenous student access, participation and completion, to enhance Indigenous student experience, build leadership and success, and to expand Indigenous curriculum to increase all students' engagement and build cultural competence and graduate attributes.

In the immediate future, the Office of the Pro Vice-Chancellor Indigenous Education, and the School of Indigenous Studies will work in partnership with faculties and portfolios to develop plans to advance Indigenous access and success, as well as establish targeted recruitment strategies for Indigenous students in undergraduate and postgraduate courses.
Tags
Groups

Education Quarterly