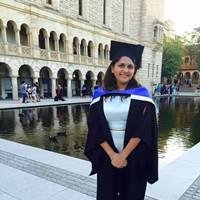 Tuesday, 2 July 2019
Angel Hayward's connection with UWA started when she was on a high school visit during the Year 8 Discovery Day hosted by the School of Indigenous Studies (SIS). It proved to be a visit that started a journey of inspired learning and further discovery.
Determined to work hard through high school, she applied to come back to UWA through the Year 11/12 WACE Revision camp to make the most of her pre-university study and learn from the best teachers in Perth.

Taking part in the outreach program was inspiring for Angel. She met like-minded Indigenous students with big dreams and determination to turn them into reality. It was also at the revision camp that she met staff who would later become her colleagues.

Academic endeavours and dreaming big, however, were never far from her sight.

Her father Eric completed a UWA Law degree, her aunt Bonnie a UWA Master of Social Work, and her grandfather Eric Hayward Snr was a lecturer at Murdoch University.

"Though my dreams have changed countless times in the past decade and a bit, my grandparents always told me education would enable me to live a better life," said Angel.

"My parents and grandparents have struggled, but their lives have given me direction. It's because of them that I'm who I am, and where I am, today."

In 2011, Angel started at SIS as a Bachelor of Arts student and combined her university experience with extra-curricular activities like AFL Women's football, and later became the recipient of the Rowley Foundation Scholarship in Cultural Studies.

She also snapped up the student exchange opportunities and broadened her interests while studying in Ireland and New Zealand.

Back in Australia, she completed two Perth internships at the South West Land and Sea Council (SWALSC) and Department of Fire and Emergency Services and later travelled for work to Mowanjum (an Indigenous community in the Kimberley), Canberra, Townsville, Hobart, Adelaide, Sydney, Meekatharra, Palm Island and Carnarvon.

"I didn't realise each different opportunity I had taken either during my studies or through work would create a stepping stone and lead to the life I live now. I would like to thank every single person who has supported me on my journey," said Angel.

Thanks to Angel's talent and tenacity, the School of Indigenous Studies wanted her to be part of their outreach team and be an example for future Aboriginal and Torres Strait Islander students.

"Now as a Student Engagement Officer, I have the privilege to go out to high schools in Perth and travel to places like Port Hedland and Geraldton to talk about the UWA's School of Indigenous Studies' outreach program, services and support that I once received," said Angel.

"I believe it's incredibly powerful to be able to talk to students about their hopes and dreams and to see how excited they are that maybe they can do something that's never been done before in their family, leading the way and creating a legacy for their family and future generations.

"I am honoured that I can sometimes be a small part in their journey."

Angel and her colleagues from the SIS student service team are planning the new upcoming Year 10/11 Science Camp and WACE Revision Camp in the July holidays and expect to welcome students travelling from all over the state.

The School has had more than 450 graduates since its inception and will have many more in the future; each student creating a ripple effect in their family, friends and community.

The students are in good hands with a proud, young and inspiring Noongar leader like Angel.
Tags
Groups

Education Quarterly