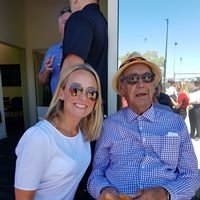 Tuesday, 2 July 2019
Norwegian international student Rebekka Aarsand had no idea what to expect on the first day of her McCusker Centre for Citizenship internship at the Wungening Aboriginal Corporation.
"I really didn't know much about Aboriginal people in Australia," the Master of International Development student admitted.
"The Wungening Aboriginal Corporation has about a 70 per cent Aboriginal team, and I was surprised and thankful for how open and willing they were to share their often traumatic experiences.
"Through this internship, I have learned to be open to listening to people, to be more engaged in social issues, and to be more aware of my own privilege. This experience opened my eyes to being more inclusive and mindful of what Indigenous people are facing."
Rebekka said her internship motivated her to continue working with organisations to improve the lives of marginalised people in the world.
"We did a lot of work with local Indigenous groups and reconciliation programs. To get that firsthand experience and see the impact they have was so insightful," she said.
"I am definitely more aware of why the Aboriginal community faces so many challenges. It made me reflect on the responsibilities we all have as citizens to listen, learn and engage with marginalised people and community organisations to develop a deeper understanding of the cause and effect of these issues."
With a positive placement experience behind her, it is not surprising that Rebekka is a strong supporter of the McCusker Centre for Citizenship internship program.

"I would tell any fellow student, 'Do it, just do it'. "It's a great opportunity for learning and getting firsthand experience in what is happening in society. I am really, really grateful for this opportunity to learn in an environment that was totally out of my comfort zone," Rebekka said.

About the McCusker Centre for Citizenship
The McCusker Centre for Citizenship at UWA was established in October 2015 with a generous donation from the McCusker Charitable Foundation.
The Centre gives undergraduate and postgraduate UWA students the opportunity to make a difference in the community by offering structured 100-hour internships with not-for-profit, community and government organisations.
The Centre also sponsors events and forums, facilitates academic units, and offers students international opportunities such as attending the Global Citizenship Forum, a Global Citizenship Exchange to the UK or New Zealand, Global Citizen internship to New York, and Pollinate Energy's Student Fellowship Program to Bengaluru, India.
Tags
Groups

Education Quarterly