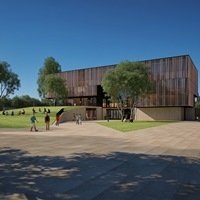 Tuesday, 2 July 2019
We held the turning of the soil and smoking ceremony for the new Indigenous Studies Building in May. The design of the building and surrounds was guided by the Noongar cultural narrative of the site, respecting the local flora, fauna and the surrounding landform, and maximises the integration with Prescott Court.
Bilya Marlee ( River of the Swan ) will house the School of Indigenous Studies, Centre for Aboriginal Medical and Dental Health and Poche Centre for Indigenous Health, and will include a mixture of high-quality informal teaching and learning spaces, and a variety of research and postgraduate office spaces.

This new purpose-built facility will be a key component within the southern precinct of the campus and will greatly improve the current student experience for the School of Indigenous Studies and the Centre for Aboriginal Medical and Dental Health.

Site clearance and demolition works are now underway and when the building opens in 2020, it will be a culturally significant icon for excellence in Indigenous Studies and Aboriginal and Torres Strait Islander student advocacy.

More information on the new Indigenous Studies building can be found on the Campus Management website.

Image : Artist impression courtesy of Kerry Hill Architects
Tags
Groups

Education Quarterly