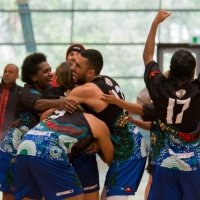 Monday, 1 July 2019
Over 400 Indigenous student athletes from 25 universities across the nation descended on The University of Western Australia last week for the UniSport Australia Indigenous Nationals. UWA entered two teams in the competition, Manatj (white cockatoo), and Wardong (crow).
On Sunday afternoon, competitors were welcomed to campus and to country with cultural activities including dancing, singing, a smoking ceremony and water blessing. Team UWA also created a sand mural on Oak Lawn, which each team added to with sand from their country to symbolise the coming together of nations.
Monday morning featured the official opening ceremony of the 2019 Indigenous Nationals, and featured a welcome to country by Whadjuk elder Dr Richard Walley, as well as addresses by Vice Chancellor Professor Dawn Freshwater and Pro Vice Chancellor of Indigenous Education Professor Jill Milroy. Following the opening ceremony, the teams made their way to compete in the Netball competition. Both UWA teams were highly competitive, with Wardong team winning their first two matches, before being defeated by Australian Catholic University in their last game of the day. After an unlucky start in their first game, Manatj won their next two games and won the wild card into the quarter finals, however were defeated by Macquarie University.
The second day saw teams compete in the Touch Football competition at UWA Sports Park. Wardong had a successful day, winning both their games in the round robin competition before progressing to the quarter finals, where they were defeated by University of Technology Sydney. Despite not making it to finals, Manatj also saw success, losing only one of their round robin matches.
Wednesday was another day of excitement in the Volleyball competition. Manatj had a day of close competition, winning their first two games after both came down to a third set.  Despite a strong performance in their final game against the University of New South Wales, Manatj were defeated in two sets. Wardong also had a successful day, winning their first two matches with ease. Wardong was unable to defeat ECU in their third match, however, narrowly missing out on the quarter finals.
The fourth and final day saw great success for both UWA teams in the basketball competition. Manatj drew their first match against the University of Melbourne, before winning their next two round robin games by impressive margins, before defeating the University of Newcastle in the quarter finals. Wardong also had a great day, dominating in all three of their round robin games, before defeating Macquarie University in the quarterfinal. With these wins, we saw the UWA teams face off against each other in a semi-final. Both teams played their best, and after a close match, Manatj progressed to the grand final with a score of 35-30. Manatj faced off with Swinburne in the Grand Final, and although they gave it their all, UWA lost 21 to Swinburne's 36, earning the silver medal.
Following the grand final, competitors gathered at Optus Stadium for the closing ceremony and presentation of awards. University of Technology Sydney were crowned the overall winners, with both UWA teams finishing in the top 10; Manatj in 6th place, and Wardong in 8th. Jasper John, a member of the Manatj team and recipient of the 2019 BP Most Promising Indigenous Athlete Scholarship, was also awarded the male Basketball Most Valuable Player.
Speaking on the experience, UWA competitor Wendi Torres said, "I always look forward to competing in the Indigenous Nationals each year as it gives me the opportunity to connect with other Indigenous University students from across the country. It's a great chance to showcase Indigenous sporting talent and also celebrate Indigenous Culture."
Congratulations to both UWA teams for a fantastic effort throughout the competition. The teams look forward to competing again next year at the 25th Indigenous Nationals at the University of Newcastle.
Media references
Gabrielle Morri
UWA Sport Graduate Officer - Marketing, Communication and Events
6488 3768
Tags
Channels

Sport

Groups

UWA Sport