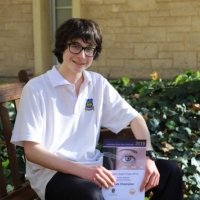 Monday, 24 June 2019
A Perth Modern School student with a passion for neuroscience and medicine has taken out this year's WA Brain Bee Championship held at The University of Western Australia.
The Australian Brain Bee Challenge is the country's only neuroscience competition for high school students and is designed to test students' knowledge of neuroscience as well as engage students interested in pursuing neuroscience as a career.
Beau Scaddan, 15, from Kallaroo, competed against more than 80 brainy Year 10 students from 21 schools to win the State competition. Perth Modern School was also declared the winning school of the competition.
Beau said he had always had a love of neuroscience and was fascinated by the human brain.
"The brain is this amazing structure that controls so much, yet we know so little about it," he said. "It's such a small organ, yet it has more processing power than the most advanced computer in the world, but how exactly it does that is still a mystery to us."
Beau said he had put in a lot of study and effort for the competition and was pleased that the hard work had paid off.
"The competition was nerve-wracking, but I knew I had put the hours in, and the result is really pleasing. It was great to participate in a competition on a topic area I am really excited about," he said.
Beau said he was interested in pursuing a career in medicine and neuroscience when he finished school.
"I'd really like to progress into a career like neurosurgery. I think that would be the greatest job in the world," he said.
State Coordinator of the Brain Bee Challenge and UWA Senior Research Fellow Associate Professor Jenny Rodger, Head of Brain Plasticity Research at the Perron Institute, congratulated the participants and winners of the competition.
"The neuroscience competition is a wonderful way for the brightest students across the country to demonstrate their knowledge about the brain," Professor Rodger said. "Understanding the brain remains a real challenge for researchers, and yet it is crucial that we make progress to better treat neurological disorders which have a devastating impact on our society.
"These students have shown incredible motivation and commitment to learning about neuroscience and I hope that we have inspired some of them to pursue this as a career."
Beau will compete against winners from other Australian states and territories in the national final to be held in Brisbane in December.
The Brain Bee event was made possible through the support of UWA and the Perron Institute for Neurological and Translational Science
Media references
Jess Reid (UWA Media and Public Relations Advisor)  08 6488 6876
Tennille Kroemer (Perron Institute Communications Manager)  0426 044 223


Tags
Channels

Awards and Prizes — Media Statements — University News

Groups

School of Biological Sciences — Science Matters