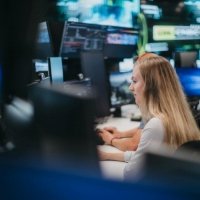 Wednesday, 19 June 2019
One of the most in-demand skills in business is the ability to analyse data to make strategic decisions. With more professionals having more data at their fingertips, there is a need for more specialists who understand exactly what to do with that data.

Businesses are willing to pay large amounts for data analytics skills: the average annual salary for a business analyst is $81,401 according to PayScale and $111,846 for data scientists ( Indeed , 2019).

Associate Professor Paul Bergey from The University of Western Australia's Business School said the growth in data was exponential.

"There is a doubling of size and speed of data creation, storage, and processing in relatively short intervals of time," Associate Professor Bergey said.

"This means that the skills necessary to garner useful insights from the data and the ability to craft actionable managerial plans based upon analytical findings will be in exponential growth as well."

A new course at UWA's Business School will develop future leaders in business and data analytics in Australia. Graduates of the Graduate Certificate in Business Analytics will enter the workforce with rigorous analytical and technical skills, and apply these skills to business contexts.

Associate Professor Bergey said an explosion of new technologies relevant to all businesses that delivered products and services was likely in the near future.

"These data-intensive technologies, such as robotics, drones and autonomous artificial intelligence, are impacting the value chains of all businesses," he said.

"The future belongs to those who embrace the data and the untold stories that lie within it."

Graduates of the course will be able to apply their knowledge in analysing, modelling and evaluating business and organisational data; and evaluating appropriate software and techniques to apply to a range of business data problems.

The one-year, part-time course is ideal for senior management or professionals who want to better understand the data available to them to make better business decisions.

Through the Access UWA program, corporate employers can send their employees to UWA to take one or two units of the course, upskilling in specific areas such as blockchain, HR analytics or big data in marketing.

Recent graduates of undergraduate degrees in management or accounting are also invited to apply and can merge the short course into a Master of Business Analytics in 2020 (pending course approval).

Find out more about the Graduate Certificate in Business Analytics .
Media references
Rachael Chamberlain (UWA Faculty of Arts, Business, Law and Education)  08 6488 5863
Tags
Channels

Business and Industry — Students — Teaching and Learning — University News

Groups

Faculty of Arts, Business, Law and Education — Migrate — eBiz